May 28th 2006

A new book on John Lydon is set to be published in September this year John Lydon: Stories of Johnny - A Compendium of Thoughts on the Icon of an Era will be published by Chrome Dreams, priced £12.99. Rather than being a biography the book is a collection of stand-alone essays on John from various music critics such as Greil Marcus, Legs McNeill, Kris Needs & Clinton Heylin (for someone who supposedly doesn't like John Lydon; Mr Heylin seems to spend an awful lot of time writing about him doesn't he?).
The book is edited by Rob Johnstone and features a foreword from Alan McGee. The thought of bunch of music journos writing about John doesn't exactly fill me with excitement, and the fact names such as Legs McNeil, Heylin and Greil Marcus are involved tempts me to think it could be nothing more than a hatchet job from start to finish. We shall see…
---

Simon Reynold's website has started posting footnotes for his Rip It Up And Start Again book. Chapters 1 & 2 are currently available. The footnotes for the first chapter on PiL include tracklistings and quotes from John's, now legendary, Capital Radio 16th July 1977 interview and Simon's unpublished review of Rotten: No Irish, No Blacks, No Dogs for Vibe magazine. The site also features discography additions, including a look at some of the early PiL solo releases 'Public Image Ltd and Punky-Reggae'.
Read the Fodderstompf review of Rip It Up And Start Again
---
May 26th 2006
Jah Wobble is putting the finishing touches on a new solo album entitled 'Alpha One Three'. He will also be back in the studio next month to record his second album with the English Roots Band. Some live shows are planned over the next few months including:
9th June - Goteborg, Museum of World Culture, Sweden
5th August - Rhythm Fesival, Clapham, Bedford, UK
Thanks to Patrick MacArdle and the Jah Wobble Discussion List, sign up now!
---
Ed Caraballo was released from Afghan jail earlier this month. See ABC News for more info. As you may remember, (ex-PiL "video guy") Ed was filming a documentary on the alleged mercenary Jonathan "Jack" Idema; when he was sentenced to eight years in Afghanistan for his part in running a private prison.
Caraballo always maintained his innocence and considered himself, and his colleagues, to be POW's. His sentence was later reduced to two years, and he was then freed a few months early. Ed tells his story at Superpatriots, the American and Afghan POW website.
Thanks to Karsten
---
With the re-release of 'Metal Box' just a few weeks away, you may be interested in checking out this feature on the album by Kris Needs for FACT Magazine. As well as information from an old 1979 ZigZag article it also includes some good quotes from Bobby Gillespie. We mentioned the article when it was first published back in 2004, but we've only recently discovered there is an online version at the FACT website.
PiL: Full Metal Jacket, by Kris Needs
---
Pigface
have two new live
bootlegs
available via
Underground Inc
: Live in NYC, 4th February 1998, and Live in Philadelphia, 12th April 1995, with Genesis P-Orridge, Mary B., Ogre, and more.
---
May 6th 2006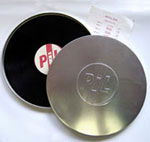 A limited edition vinyl replica of 'Metal Box' will soon be released in the USA. Like the 1979 original, it will be 3x45rpm, housed in a metal can, even including the insert. John Lydon has been overseeing the release for sometime, making sure the sound quality and packaging are as close to the original as possible.
It's taken over 25 years but you will finally be able to buy 'Metal Box' – as it was meant to be – in the USA. The album is released via RUNT Distribution, and their 4 Men With Beards label (4MBLP 500). Scheduled release date June 20th.
Thanks to JL.Com
---
April 17th 2006
Muriel Spark RiP 1918 - 2006
Muriel Spark the author of The Public Image – the 1968 novel that inspired PiL's name – has died in Italy, aged 88. Read The Herald Obituary for more info.
Speaking about the novel in Rotten: No Irish, No Blacks, No Dogs John commented:
"I got the name Public Image from a book by that Scottish woman, Muriel Spark, who wrote 'Prime of Miss Jean Brodie'. When I was in Italy, somebody introduced her writings to me. I checked out some of her other books when I got home. One of them was called 'The Public Image'. It was all about this actress who was unbearably egotistical. I though, Ha! The Public Image. Limited. Not as a company, but to be limited – not being as 'out there' as I was with the Sex Pistols."
---
John Lydon
has a new
interview
at
JohnLydon.Com
. Taking Liberties Not Taken Easily! All the latest direct from the horses mouth:
More Rock and Roll Hall of Fame fabrications
The Brits
New York Metropolitan Museum of Modern Art
Congradualtions
And Pistols in Japan?
---
Jah Wobble's
live session and interview from
Seattle's KEXP 90.3 FM
, recorded during his recent US tour, is now available to download via the
KEXP website
.
Thanks to Patrick MacArdle at the Jah Wobble Discussion List, sign up now!
---
Pete Jones website has now moved to www.pete-jones-uk.co.uk. His 'Neurotechnic' EP is still available from the site. Pete has a few things in the pipeline in the near future and could be collaborating with Richard Dudanski & Stuart Argabright on separate projects. He is also working on new material, and will be remixing some tracks in the summer at John Milners studio (ex The Hots).
---
Pigface
have re-issued '
Notes From Thee Underground
'. The remastered 2 CD set also includes 'Feels Like Heaven...', and unreleased bonus tracks, plus an updated and extended "Fuck List". They have also just issued a 5CD '
Head Remix Boxed Set
'. See
Underground Inc
for more info.
---
March 27th 2006
Indie 103.1 FM now have John's
Jonesy's Jukebox
interview available as a
podcast
. The 2 part podcast can be downloaded free at the
Indie 103.1 website
, or via iTunes.
---
It appears that
Keith Levene
will be working with
Carpetface
again. This time on a side project called Quim Reaper. See
New Bias website
for more info…
Thanks to Karsten
---
The Dharma website
The Worst Horse
features a review/article on Jah Wobble's
'Mu'
album.
Thanks to Rod Meade Sperry
---
March 10th 2006
John Lydon
will be appearing on Steve Jones radio show today, Friday, March 10th.
Jonesy's Jukebox
airs on
Indie 103.1 FM
, 12-2pm (Pacific Time) (8-10pm GMT), and is available to listen live online via their
web site
, and also through iTunes Radio.
John will also be making a return to ABC's Jimmy Kimmel Live tonight at 12.05 (Pacific Time, USA) (11.05 Central Time, USA).
Thanks to JL.Com

---
Here's a Jah Wobble interview we missed with Nerve Magazine, from his recent US Tour. Wobble will be appearing on the 'ClipTrip' show on Canadian cable channel Muchmoremusic.Com on 13th and 14th March.
Thanks to Karsten
---
Annalisa: A German "Requiem" based on the case of Anneliese Michel has been presented at this year's 56th Berlin International Film Festival. Sandra Hüller has been awarded with the Silver Bear as best actor for her role. The film is coming to German cinemas today on 2nd March. This seems to be the second film based on the case of "Annalisa", after Hollywood's version (The Exorcism of Emily Rose) from last year.
Thanks to Karsten

---
And lastly (and it deserves to be last), former PiL keyboard player Jebin Bruni features on the latest Robbie Williams album: playing keyboards on the track 'Sin Sin Sin'.
Thanks to Karsten
---
February 26th 2006

EMI have just released a DVD version of Don Letts 'The Punk Rock Movie' in Japan and Germany, the UK edition will follow on 27th March. As well as Sex Pistols live at the Screen on The Green 1977, 'The Punk Rock Movie' also features footage of John in Jamaica 1978.
Special bonus footage includes a 33 minute interview with John Lydon, filmed in Sydney, Australia, in early January 1985 (not 1983, as stated). John is interviewed by Peter Clifton, who was the director of the 'Public Image' promo-video in 1978.
Top of the quotes: "Australia for me was like the last great unexplored continent...(pauses) and now it's made me incontinent."
Thanks to Karsten
---
February 16th 2006

Liam Howlett
of the Prodigy picks PiL's '
Rise
' on his new '
Back to Mine
' compilation released through DMC (BACKCD23). Liam Prodigy - 'Back to Mine' is available now and also includes tracks by: Public Enemy, Max Romeo, The Specials, and a brand new Prodigy track: 'Wake the Fuck Up'.
---
You can find a
podcast PiL interview
with John from the late eighties on the
JBTV website
; you can also access the podcast via the
iTunes
website.
Thanks to Mark Weddle
---

Hudson Vandam Records in the US have just re-released Afrika Bambaataa's 'Zulu Groove' album on CD. The album – a compilation of his 1983-84 Celluloid Records releases – features 'World Destruction' & 'World Destruction (Meltdown Remix)'. It also includes the whole 'Shango Funk Theology' LP, and Time Zone's 'Wild Style' 12" (not featuring John).
Note: 'World Destruction (Meltdown Remix)' is also known as the 'Instrumental Blast'. See John Lydon Discography for more info…
---

Lu Edmonds produces, and plays Saz on, Babar Luck's debut album 'Care In The Community', which will be released on 20th February via Rebel Music Records. As we previously mentioned, Babar's music has been described as a "new take on English Folk Music" fusing together reggae, folk, hip hop and poetry with his Asian roots. He has recently been supporting Siberian punk/folk group Yat-Kha, who Lu has been heavily involved with for sometime. See Babar Luck's web site for more info…
Lu will also appear as a guest speaker at the 'Porto Musical' music business convention in Recife, Brazil on 22nd February.
Thanks to Karsten
---
February 8th 2006
---

Simon Reynolds extensive book 'Rip It Up And Start Again - Postpunk 1978-1984' gets a US release on Match 7th via Penguin. The cover artwork has been changed for the release; and now features a Dennis Morris photograph of PiL.
I have to admit I still haven't got round to getting the book, but apparently it features two whole chapters on PiL, including exclusive interviews with Keith Levene, Jah Wobble, Martin Atkins and Bruce Smith.
---