As predicted John Lydon didn't appear at last Monday's 'In The City' talk in Manchester. No official explanation was given, but personally I'm glad he didn't do it, corporate bullshit anyway...
By the way, it's not that I'm keeping the reasons for John's proposed trip to the UK to myself, I just want to confirm it all before I blab...

---
E-Bay currently has a copy of the CD edition of 'Metal Box' signed by Martin Atkins. It's not normally the kind of thing I'd mention, but the interesting thing about it is that it's been sealed with PiL tape by Martin. Which apparently was meant to be on the original vinyl copies, but never was. Check it here.

---
Ex-PiL guitarist Ted Chau and his band Candyheads play the London Monarch on November 5th. Don't forget to check out out exclusive interview with Ted from earlier this year.
Lu Edmonds is touring Australia with Billy Bragg in October. Full tour dates on Billy's site.
Jebin Bruni, keyboard player in the 1984 tour, is currently touring UK/Europe with Aimee Mann, check out Aimee's official site for tour dates.
Thanks to KARSTEN ROEKENS for the info.
---
29th September 2001
It is now looking increasingly likely that John Lydon will NOT be appearing at Monday's 'In the City' convention in Manchester. After recent events in the USA 'In The City' have not received further notice from John that he will still be attending the event, and the strong rumour is that John will not be travelling over to the UK for the talk...
However, Wobble is still set to appear on Sunday's panel.
Despite his no-show for 'In the City', it looks like John will now be travelling over to the UK at the end of October. More info soon, you won't believe this one... !
---
Our exclusive interview with original PiL drummer Jim Walker by Karsten Roekens is on-line now. Jim talks about how he joined the band, reveals details of unreleased material, the events leading up to the destruction of the original line up and the internal struggles within the band, along with his plans for the future.
Jim doesn't pull any punches and the interview features countless information never printed elsewhere. Click here to check it out...
---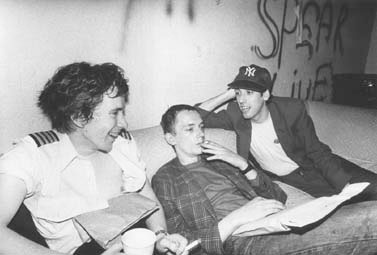 This rare picture of John Lydon, Keith Levene and Mick Jones, taken backstage at New York, Bonds in summer 1981. Appears in the new Bob Gruen Clash photo book, 'The Clash' printed by In Vision. Available now, should for any reason (and I can't think of any) you should want it...
Thanks to Punk Rock Paul
---
27th September 2001
Jah Wobble and Deep Space are playing some further Northern America shows in October. Confirmed dates so far:
11 October - Detroit, Magic Stick, USA
12 October - Cleveland, Beachland Ballroom, USA
13 October - Toronto, Lee's Palace, Canada
14 October - Montreal, Cabaret Music Hall, Canada
Remember, Jah Wobble - 'The Early Years' is out now, see below and the 30 Hertz Site for full info . Don't forget the forthcoming Solaris shows too...
Thanks to Patrick MacArdle and the Jah Wobble Discussion List for info, sign up now!
Apologies for the lack of updates lately. I'm hoping to get some stuff done at the weekend... Coming soon - An interview with original PiL drummer Jim Walker. Definitely worth checking out!!
---
21st September 2001
PiL's live performance of 'Careering' from the 'Old Grey Whistle Test' 5.2.80 is featured on a new BBC 'Old Grey Whistle Test' DVD compilation. If you order via the official BBC Shop you receive a 20% discount. RRP £24.99.
Thanks to Rob Banks
---
13th September 2001
Something a bit more important than PiL news....
Fodderstompf founder and New York resident M is, I was gonna say alive and well but that doesn't sound appropriate. Well, basically she's alive and physically unhurt but like thousands of other NY residents she is still slowly trying to put her life back together again. M our thoughts are with you, may the road rise...
Not that I've been looking to Mr Lydon to solve our problems, but over the last few days I've had snippets of various PiL songs and JL quotes in my head, 'World Destruction', Home' & '4 Enclosed Walls' to name a few. However, the one quote to remember is:
Anger is an energy, hate is not...
---
6th September 2001
Oops, forgot this yesterday!
Jah Wobble will also be appearing at this years 'In The City' convention. Unfortunately it wont be the same day as John Lydon though. Wobble will be on the pannel for Sunday 30th September, the day before John appears.

ITC have released datails of the content of JL's "celebrity interview" appearance...
John Lydon is to give the ITC celebrity interview, to celebrate the convention's anniversary year.
Eight years after svengali Malcolm McLaren's ITC appearance, the notorious frontman will tell his side of the great Rock'n'Roll swindle. Lydon became the most infamous man in Britain as the singer with the Sex Pistols. When the band collapsed he hooked up with ITC panellist Jah Wobble to create Public Image Ltd, and make equally powerful records.
In a long and varied career that has seen solo albums, books, and no end of cultural commentary, Lydon stands alone as a man who is still willing to speak his mind.
John Lydon will be returning to Manchester 25 years on from the Sex Pistols' legendary appearances at the Free Trade Hall - widely credited with kick-starting the UK punk movement. 15 years ago, Manchester celebrated the tenth summer since this epochal event.
Lydon will talk about punk's legacy, his own present and pop's future in punk's silver jubilee year.
See News 31st July for further details of John 's 'interview'.
---
5th September 2001
Jah Wobble has revamped his 30 Hertz Site, and you can now order on-line.
Wobble will be re-releasing the long lost 1983 'Invaders of the Heart - Bedroom Album' on CD for the first time, via his own 30 Hertz Records on 24th September. The 2 CD set has been remastred from the vinyl (with thanks to Wobble Hot List founder Patrick MacArdle), and will include the original album, along with a bonus CD of rare 12" singles from around the same time, including the likes of 'Blow Out', 'Voodoo' & 'Long, Long Way'. See the 30 Hertz Site for full info...
---
30th August 2001
The fourth and final part of Keith Levene's interview with on-line magazine Perfect Sound Forever has just been published. Keith finishes off the PiL story and reveals some of his plans for the future, and his latest project Missing Channel...
As always not be missed. Check it out here.

Incidentally, I'd just like to take this opportunity to THANK Jason Gross of Perfect Sound for his persistence in tracking down Keith, and getting him to speak in such detail about PiL. The interviews brought lots of new information to light, much of which had been ignored in the past, well done Jason...
---
16th August 2001
After flirting with The Damage Manual last year, Jah Wobble is once again teaming up for another "supergroup".
'Jah Wobble's Solaris' will feature Wobble on bass, along with Bill Laswell (Bass & Electronics) , Jaki Leibezeit (Drums), Graham Haynes (Cornet), Harold Budd (Piano). Sounds good to me!
Click here for full info and ticket details. The band will be touring the UK in October, confirmed dates so far are:
Sunday 21 LONDON Ocean
Monday 22 GLASGOW The Arches
Tuesday 23 MANCHESTER Contact Theatre
Wednesday 24 LEEDS The Wardrobe
Thursday 25 KENDAL Brewery Arts Centre
Saturday 27 BRIGHTON Dome (Corn Exchange)
Sunday 28 COVENTRY Warwick Arts Centre
See you there!
Thanks to Patrick MacArdle and the Jah Wobble Discussion List for info, sign up now!
---
10th August 2001
The rumour mill has been is overdrive this week...
There has been talk of a John Lydon solo tour of the UK in August/September, including Festival appearances. However, bottom line is it ISN'T gonna happen... "Apparently" talks were in progress but John has told the organisers to "fuck off", apparently...
At first I thought it was complete bullshit, however, the rumours seemed to gather more credibility as the days went on. Despite the fact JL will be over in the UK soon for the 'In the City' talk it seems unlikely he'd tour without any product to push. But who knows...

Another rumour circulating is that 'Metal Box' is being re-issued this month. However, Virgin Records know nothing about it, so it's not gonna happen...
John appeared on the US TV debate show 'Politically Incorrect this week (9th).
---
31st July 2001
John's In the City "interview" will be held at the Midland Crowne Plaza Hotel, Manchester on Monday 1st October at 5.30pm. Unfortunately the convention delegates are mainly from the music industry and this is probably reflected in the prices...

Registration Rates for the event are as follows:
Early Bird Registration
(before 5pm, Friday 3rd August): £365 +VAT (per person)
Early Bird Corporate Registration: £1460 + VAT (five delegates from same company)

Full Delegate Registration: £395 + VAT (per person)
Corporate Registration: £1580 + VAT (five delegates from same company)

Fashionably Late Registration
(from 9am, Monday 24th September): £445 + VAT (per person)

Fashionably Late Corporate Registration: £1780 + VAT (five delegates from same company)

Dance Summit Registration:
(Full pass valid only on Saturday 29th September) £195 + VAT (per person)
Day Rate: £225.00 plus VAT.

You can register from the official In the City web site.


Thanks to Imran Kassim at ITC for the info...
---
26th July 2001
John Lydon will be appearing on the Channel 4 (UK) TV programme 'Hello Culture' this Sunday 29th July, 10.55pm. The art based show, exploring Modern Culture, this week takes a look at Nihilism and will be asking John for his thoughts, should be entertaining...
---
John Lydon is scheduled to speak at this years In The City music business convention in Manchester at the end of September. It looks like the talk may not be open to the public, however, we are working on getting more info on the event and will keep you informed. In the meantime check out the official ITC web site for more info.
---
Listeners to John's Rotten Radio show on Eyada may remember him mentioning a dance remix of '4 Enclosed Walls' he had heard, and loved, but didn't know who it was by. Well, thanks to our ace archivist Karsten Roekens we can reveal it was by German remixer/producer Westbam. The track 'Hold Me Back', which samples the "Allah" verse, was released on 12"single in Germany 1990 (LOW SPIRIT, SYRT 6), and is also included on the CD single 'The Roof Is On Fire', released in 1991.
Incidentally, unfortunately Eyada has now bit the dust due to financial difficulties, shame...
---
18th July 2001
John Lydon is interviewed in the August issue of FRONT magazine. The three page interview unfortunately doesn't tell us anything about his latest projects, and mostly centres on the Pistols, and 'The Filth and the Fury. However, it does feature some typically Lydon comments and opinions that, as always, are well worth a read...
Jah Wobble & the Invaders of the Heart play The Trowbridge Festival, England this Sunday, July 22nd.
---
7th July 2001

John Lydon took part in a special web chat for the UK satellite & digital premiere of the 'The Filth and the Fury' on FilmFour, last Saturday, 30th June. Unfortunately it turned out to be a bit of a non-event as it was heavily over subscribed, and those who did get logged on, only got to chat to JL for around 30 minutes. It wasn't exactly the most informative interview of all time either... A transcription of the "chat" is available on the FilmFour site.
---
The third part of Keith Levene's exclusive interview with E-Zine Perfect Sound has just been published. This is the third of a four part interview, and centres on the 'Flowers of Romance' and 'Commercial Zone' period, not to be missed....
Check it out here.
---
PiL live guitarist, circa 1989 & 1992, Ted Chau has a new band called 'CandyHeads'. Their album 'Go Forth and Multiply' should be in the shops by the end of the year. You can download a preview MP3 via their official web site.

Read our interview with Ted here!

Candyheads play Croydon, Cartoon Club, on Sunday 15th July, doors 8pm.
---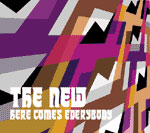 One time PiL guitarist Steve New, circa 1980, has just released a solo album on Alan McGee's PiL named Poptones Records.

The New - 'Here Comes Everybody' is available for £9.99 via the Poptones site.
The largely instrumental album, described by Steve as his "jazz album", features a mixture of very different sounds and influences. Ranging from electronic noise, to rock, to psychedelic, via dance and punk! Well weird, but strangely poppy, and highly recommended, just like Steve!
---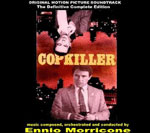 Fans of John Lydon's 'Copkiller' (aka 'Order of Death') movie can now buy the official Ennio Morricone soundtrack on CD for the first time, via Morricone specialists 'Hillside Soundtracks '. Previously the soundtrack only existed as a very scarce French import, issued in 1983.
PiL or John Lydon DO NOT appear on the soundtrack, and to be quite frank the music is awful. I once said in F&F it sounded like Morricone had done it at 'ten to five on Friday afternoon'. What could have been a brilliant PiL project, unfortunately turned to nothing, shocker eh...
Still, the CD has a quirky collectors value. Mostly due to the new cover shot (featuring the rare Italian film poster), and the fact the CD also features extra music not featured on the original French LP.
---
19th June 2001
Jah Wobble's Deep Space release a new live album this week, 'Largely Live in Hartlepool and Manchester'.
The 2 CD set was recorded last year and should be in shops now. Full order info etc at the official 30 Hertz site.


The following live dates are also pencilled in for the coming weeks...
JULY 6th
DEEP SPACE - FARNDALE, NORTH YORK MOORS NATIONAL PARK
JULY 14th
DEEP SPACE - CROYDON, WORLD MUSIC PARTY
JULY 22nd
INVADERS OF THE HEART & MOLAM - TOWBRIDGE FESTIVAL
AUGUST 4th
DEEP SPACE - SIDMOUTH FOLK FESTIVAL (Bowd Marquee)