Jim Walker interview
First published Fodderstompf, September 2001
© 2001 Fodderstompf.com
Fodderstompf.Com: This interview with original PiL drummer Jim Walker was conducted via email in Autumn 2001 by Fodderstompf contributor Karsten Roekens. Jim talks about how he joined the band, reveals details of unreleased material, and charts the events leading up to his departure. This was one of the first PiL interviews Jim had conducted in sometime and he doesn't pull any punches…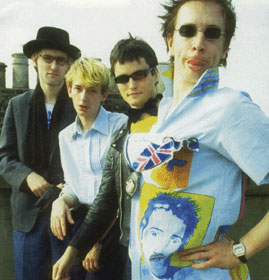 KARSTEN: First of all, you once had the nickname 'Donut', what's the story behind it?
JIM: It all started with spiteful parents lumbering me with the name of my French American grandfather. Who dropped dead a week or so before I was born. His name was Donat. Pronounced Donagh (lol...). Like an idiot I'd put this most ridiculous name on our PiL contract (lol...). The rest couldn't contain themselves, who can blame them it wasn't fucking France was it.
KARSTEN: How did you get into playing drums? I think your first band was The Furies, what was the punk scene like in Vancouver and why did you decide to move to England?
JIM: That all started when I was 10 years old. I recall bunking off school on the afternoon of my 11th birthday to learn the beat of 'Get Off My Cloud' by the Rolling Stones. Charlie Watts I always liked, he was easy to pick up on. I quit playing in disgust aged 12, my kit just fell apart (lol...). Then I seriously decided to become a famous rock musician the year after my family disintegrated. I had no hope so I swore to myself that would do whatever it took. This occurred right around the time Jimi Hendrix died. I'd always thought he was the best. He had to go to London to make it to the big leagues so probably that got me into the idea of going to London (lol...). Real Dick Whittington stuff.
In April 1977 I was offered the chance to join this punk rock band called The Furies. There were these two interesting blokes one was Chris - he just couldn't give a toss about anything. And Malcolm - he had a flashy car and talked the talk. Up until then I'd been preparing myself to return to Boston. I'd done some time at Berklee College of Music. I thought I was going to become the great white hope of jazz drummers (lol...). You see back then jazz rock still seemed to have a future even though as it turned out it didn't.
To make a long story short I agreed to join this mad little garage band. The next morning I chopped off my hair to look like a murderer. And over the next five months we were one of the best punk rock bands on the West Coast. We certainly ruled Vancouver and Seattle. Where we had played a gig and literally blew Seattle's finest out of the venue. Our problem was there was no scene aside from us and our rivals The Skulls. There is no way to actually earn a living in a city of a million people. Canada was and forever remains an absolute cultural backwater. So on September 11 1977 The Furies played our final gig. Then split up. As you do. I suppose the Vancouver punk scene was a mirror image of what had happened in London a year or two earlier. There was energy that needed to find expression. It was British Columbia we all felt akin to Britain, look at the name of the place. It was just too small to sustain itself. So being the show business type I always was it came down to either LA, NYC or London. London won because it had the best punk scene and second, instinctively I realised I had to go to London while I was still perfect. Which at that time I most certainly was.
KARSTEN: Coming to PiL, you joined the band through being auditioned, whereas the other band members knew each already, did this have an effect on your position in the band?
JIM: Six months after arriving in London I went to an audition for Johnny Rotten. Having spent the most miserable winter in my life. You see I'd arrived here on 13.10.77 exactly one year to the day PiL's debut single would be released although I didn't know it at the time. Within two weeks I'd all but been offered the job of replacing Rat Scabies in The Damned. But that didn't work out. I'd just caught the end of the original punk rock scene in London. There were no new bands starting that winter. I'd seen the Sex Pistols final London appearance. I'd studied Paul Cook that night (lol...) if you don't believe me just ask him.
Anyway I was tracking Rotten from the moment the Pistols split up in early 1978. I figured he'd need a drummer so I would read the Melody Maker classifieds the second they came out. Oftentimes you could get it on Wednesday. Eventually I saw his cryptic ad and two days later I was auditioning. Having spent six months in London. I'd figured out what I needed to know about what was required of me. And so when it came time to actually play I just beat the shit out of the drums. They literally went flying across the room. Which impressed the hell out of the others. Particularly Keith. They hired me after playing one song. After a lifetime of total frustration suddenly I was where I belonged. Made out of solid gold (lol...).
We all got along brilliantly during the first few months. None of us had any money so we had to work hard. We wrote most of that first album during those first glorious months. Plus other stuff. Some of it better than what ended up on that lousy album. The fact that I was a stranger never came into the equation until after we'd signed bad contracts. Contracts which in effect gave John the business. We didn't have a manager John held all the cards. Unlike the others I had come from a mercantile family. I instantly recognised that we were being swindled. I tried to stand up and tell everyone that we were making a mistake to give Rotten majority ownership in the company but got myself shouted down by the others.
I'd decided to leave PiL the moment I signed the contracts. I instinctively knew that PiL would fail. We had no manager. Rotten stole the power which ironically screwed him. We all needed each other just like The Beatles. John was no exception. Once the money arrived it was like a nuclear explosion. Instantly we all started hating each others guts. A total reversal of our previous harmony. My interest in PiL from that point on was effectively zilch. All I cared about was to be on the first record and play the first gigs. From that time on the fact I was a relative stranger was probably held against me. Basically it became a living version of hell.
KARSTEN: Recording the first PiL album was described as chaotic, what do you remember about it? What was it like to work with Rotten, Levene and Wobble?
JIM: We recorded what at that time was supposed to be our debut single at two different studios. We did the backing tracks at this really cool place called Advision with two really good engineers. PiL was such a totally awesome experience to me. Every new step was soooo big for little me (lol...). Although I was growing up very quickly. But John wasn't happy working there so at the end of the day we ended up at another studio called Wessex. Where the Pistols had recorded. John obviously needed to feel at home and why begrudge him for that. We had a genius by the name of Bill Price mixing the Public Image. This was undoubtedly the high water mark of PiL. We were going to record everything with Bill Price. Had we our first album would have been as well made as the A-side of the first single. But unfortunately Wobble beat the shit out of the assistant engineer. Over nothing other than personality conflicts. So from that point on we had to wander the jungle of the London recording studio scene. Which once again highlighted the need for a manager. A good manager would have bribed the assistant engineer who after all agreed to the ruck in the first place. He was twice Wobble's weight so he obviously expected to win that pub fight (lol...).
Anyway, from then on we were effectively on our own. We'd lost our genius engineer. It was a nightmare recording the album from then on. We'd turn up somewhere at say 9pm start recording at about midnight. Then leave at 2pm the next afternoon with a finished track. It wasn't a bad way to do it. 'Theme', 'Religion' & 'Annalisa' were done like that. They all turned out not too badly even if by Wessex standards they sucked. But by the time we'd done 'Annalisa' the advances had been blown. Everyone but me was regularly on some kind or other kind of drug (lol...). Not that I never took any myself. Most of us were swimming in an ocean of alcohol. We weren't playing live gigs as we should have been. We couldn't make the American record labels October first deadline.
By the way a member of the Warner Brothers LA board of directors. A real Mr Big had flown over the previous June just to watch us rehearse (lol...). He told us after flying back to LA they'd stuck a million bucks in an account for us. Just for promotion. Just for openers. Blimey they expected to do real business with us. The yanks were brilliant. Unlike the Brit record label. Which by comparison was being run like a sugar cane plantation.

Yikes you seem to ask questions that need so many answers! Um. What was it like to work with Rotten, Levene and Wobble. Let me say it was brilliant to work with them. Each one of us gave PiL a dimension that wowed the others. Rotten was without question the greatest frontman of his generation. But as well he was a great laugh to be with when he was in the right mood.
Insofar as the actual mechanics of songwriting went he wrote the words. Then he sang them. Wobble and I wrote everything else. One of us would play something. The other would pick up on what the other one was doing. Then bingo! Another new PiL song was on it's way to being made. Keith would then play something on guitar of course. It's difficult to explain in a way. Wobble and I were one of these miraculously perfect drum and bass combinations. Whereas Keith had the best musical brain I have ever worked with.
For example once during a break I stayed on my kit. You know fooling around. When suddenly Keith jumped up and shouted to me to repeat whatever it was that id been playing. It was just some hi hat thing. I'd always focussed on developing my left hand side. In other words my hi hat side. Anyway I repeated it. Wobble instinctively came up with the perfect bass line part. Then Keith. Who had heard exactly what he wanted though the thing I'd started played the most blistering guitar part I think I ever heard him play That was how PiL wrote. Though the subconscious. That song ended up being named 'You Stupid Person'. It was meant to be our second single. Unfortunately we'd run out of money by October. Certainly by November. So by the time we finished the album we were literally throwing really badly made tracks onto it. Just for more drug money basically.
'Low life' and 'Attack' were meant to be properly made songs. But recorded in a basement dungeon of a demo track studio. No live drum sound everything done on the cheap. Appalling result. 'Fodderstomph', the same sad sick story. Not even a song just a wank. Ripping off our fans. It still turns my stomach thinking about it. Same story with the 'Cowboy Song' .One decent track for the price of two. PiL were in effect mocking those who were feeding us. Our fans. I hated this sort of rubbish but by then I had given up hope for PiL. Ironically John had written what sounded like an Irish ballad for the 'Cowboy Song'. We only played it once with that wonderful lyric (lol...). The thing was I'd come up with the idea for that song one morning. I was trying to rip off the theme song for 'Bonanza'.

KARSTEN: You played the first four gigs with the band, two abroad and two at the Rainbow at Christmas, are there any interesting stories?
JIM: By the time PiL actually managed to play those initial gigs we were already on our last legs as a cohesive unit. I was a drummer, it's like being a footballer you need to stay in shape its very athletic. By the time December came we had virtually stopped rehearsing for about two months. I was in terrible shape. All I could do was fake it.

Get this: Peter Grant, Led Zeppelin's manager wanted to manage us. Rotten and I bumped into him in a local pub. Led Zep were on their last legs by late 1978 while PiL were still white hot. Peter Grant was the greatest manager in rock and roll history. He was astute enough to see the potential we had. Well, had he managed PiL there's no telling what might have happened.
Brussels was our first gig ever. We played two sets. The first one went well although we nearly started a riot. Odds of 700 to 4 of us (lol...). No security to be seen, crikey they wanted to kill us and we hated them back with the distain that only the Brits can muster (lol...). Rotten was absolutely sparkling. We were getting bottles thrown at us. I couldn't move out of the way (lol...). It must have been like that at the battle of Waterloo you know. Standing in an infantry square. A few things hit me that night. Because the next morning for I woke up with a 7 inch black and blue bruise on my left shin. Funny thing how it all seemed like slow motion (lol...).

After the second set disintegrated we had about 40 bikers waiting outside the dressing room. It seems that they had a bone to pick with us. I never did quite understand why (lol...). So we sat for what must have been three hours. Mind you we had lots to drink. The horrible thing was PiL was very little fun to travel with. Rotten had all these sycophants on wages. We had no method. It was like the end of apocalypse now just a total mess. London was even worse. Christmas Day was just a big football riot. I was so glad for those 100 bouncers between the band and what seemed to be certain death (lol...). It looked like a scene straight out of ancient Rome. They wanted to kill us but couldn't get near us because of those 100 bouncers.
The second London gig was fine. We had played a horrible gig the night before. We managed to pull ourselves together and played a good gig that night. To tell you the truth as that night grew closer. I knew I'd be leaving after that gig. You see, I grew increasingly worried that I was making a mistake. So I kept trying to find something good about PiL. But even after that relatively good moment on-stage the miserable atmosphere that PiL had become again descended upon us all. And I knew there and then it was time to pull the plug once and for all.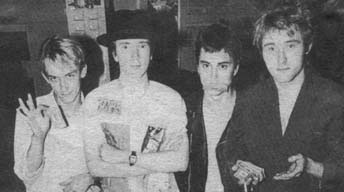 KARSTEN: An inevitable question. Do you remember any material that remained unreleased?
JIM: Wow. A simple question! Yes, there was 'You Stupid Person' it was actually a lot better than 'Public Image'. It would have been impossible to keep from being a number one hit. And probably would have broke us in America all by itself. We managed to demo it. I've still got a copy. If it were up to me I'd get John in a recording studio and have him do a vocal track over that demo. Which would really be cool. Since it would literally be the same 1978 version of PiL that did the first single. It would still probably reach number one. It was so far ahead of it's time that pop music still hasn't caught up to it yet. 'You Stupid Person' featured a radical approach to popular music quite unlike anything I've heard before or since. Cest la vie of course.
KARSTEN: There's a song called 'Home is Where the Heart is' for which you got a writing credit. However, this was changed to Martin Atkins when the 'Plastic Box' compilation came out. Did you have anything to do with the track, did you really play on it?
JIM: Not to my knowledge. (lol...) Those bastards used the 'Fodderstomph' track on the B-side of the 12" version of their second single. Ha Ha!
KARSTEN: You left PiL in the beginning of '79 just when the band started to write new material for what eventually became 'Metal Box'. What were the reasons you left the band, had you had enough?
JIM: When I left PiL it was because because we never rehearsed, or played any gigs, we didn't conduct ourselves like the businessmen we were always bragging about being. And considering the fact that two years earlier I'd been earning two and a half times more in wages as a construction surveyor. PiL hardly seemed like a profitable enterprise. I had originally joined a band of four brilliantly talented and young musicians. Not the Johnny Rotten Band. Which to my mind is what PiL turned into. Very quickly. I'd have never joined to start with had I known what was going to happen. But by the time it did it was simply too late.
KARSTEN: Looking back on your time with PiL, what are your feelings about it? Do you think the band was influential, does the music itself stand the test of time? Clinton Heylin wrote in his book about PiL that the original band concept was "a failed experiment".
JIM: Isn't hindsight great? I suppose that despite ourselves we did manage to influence the course of popular music. We were radical and innovative. We made most everyone else look musically weak. Our average age was 21 years old. The perfect age for real talent to make it to the big leagues. I suspect that in fifty years orchestras will be playing 'Annalisa' (lol...) I'd like to have a go at that myself.
I reluctantly agree with that opinion. PiL was a failed experiment, but a glorious one.
KARSTEN: After PiL you joined The Pack and then The Straps, some of it came out on Donut Records. Was it you?
JIM: Sad but true. I was miserable every second. My heart just wasn't in any of it.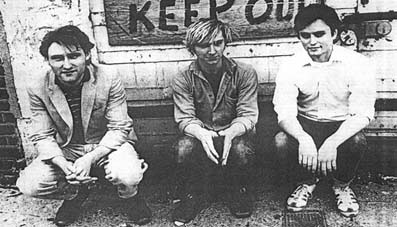 KARSTEN: You began to work with Wobble again in The Human Condition, how did this come together? The last track I know of where you played drums was 'Sleazy' on the 'Snake Charmer' EP.
JIM: I thought there were only ten questions! (lol...)
Wobble more or less pounced on me one morning outside my lawyers office. I was fed up enough to agree to start up a band with him. We might have made it but we never stayed together long enough. We had our moments. It was comedy central at times in many ways far more interesting than PiL. We did a cool tour of Holland. There's a record of it. It was fun to be a co-leader of a band. We made some mistakes (lol...). All I know is I played terribly on 'Sleazy'. I hadn't touched a stick in months. Hopefully it helped his career (lol...). Wobble was a laugh to be in a band with. The trouble is he's too talented as a drummer! (lol...). Once I had to get him to stop he was too close to figuring me out. But that's the Brits for you.
KARSTEN: What did you do after that? Did you give up music for a while? Keith Levene claims you went into films, what's the story behind that?
JIM: I retired. Went to America. Bought a car and drove tens of thousands of miles across the US interstate network. Made some films. Went back to construction work when the money ran out. Got a college degree. Made some more films.
KARSTEN: In the early nineties you were in The Mavericks with Glen Matlock and Keith Levene for a short time.
JIM: In 1991 I'd returned to London. Soon after Keith Levene and Glen Matlock talked me into staging what amounted to being a music business comeback. It was interesting for about a week. Unfortunately it went on for two months. Basically had we all been 21 years old we'd have been a singer away from being a supergroup. But, being in our thirties, which we all were, it just seemed a bit too late to leave it.
KARSTEN: What are you doing nowadays, are you still playing drums?
JIM: Presently I'm fending off offers to return to the music business (lol...). Doing very well.
KARSTEN: A final word about it all?
JIM: I suppose I'm happy to see our name in the 'Rolling Stone Encyclopaedia of Rock' & the 'Penguin Dictionary of Popular Music'. It's horrible of course. But it's fun to live long enough to see oneself consigned to the history books.
If I wasn't doing anything better. I would like to see PiL temporarily reformed for one last gig. At the Royal Albert Hall. With a proper business manager running it. Say for example someone like Ozzy Osborne's wife Sharon. Record it live. I'd direct the film. Release that lost single even if it means throwing Johns vocal over a cassette copy of that demo track (lol...). Oh yeah, this one's for Wobble. I'd have all of the rehearsals for the gig made with us all locked inside the 'Big Brother' house. Now that would be comedy...

Picture Credits: (Top to Bottom)
PiL on roof of Gunter Grove, 1978 © Dennis Morris
Jim Walker 1978 © Dennis Morris
PiL circa 1978: Keith, John, Jim, Wob © unknown
Human Condition: Wob, Animal, Walker; circa 1981 © unknown