15th May 2003
Jah Wobble & Deep Space will be in session on Andy Kershaw's Radio 3 show tomorrow, Friday 16th May, 22:30. The appearance was originally meant to include Molam Lao, but a mix up meant they couldn't perform (The BBC fucked up their taxis!). However, a further session including Molam Lao could happen sometime in the near future...
---
9th May 2003
'Poptones' from PiL's 5.2.80 'OGWT' appearance was shown on 'The Whistle Test Years' last night (Thursday, 8th). Great to see it again, I'd forgot what a great performance it was... Apolgies for not reporting the info beforehand, but it took me completely by surprise, you just don't expect to see PiL on TV anymore...
---
7th May 2003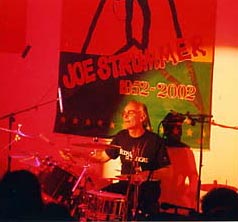 PiL drummer Richard Dudanski recently played with his old band the 101ers as a tribute for a new charity set up on behalf of Joe Strummer, Strummerville.
Full info, including quotes from Dudanski, via BBC:
JOE STRUMMER'S OLD BAND PAYS TRIBUTE
The BBC reports that the late Joe Strummer's first band reunited for a tribute concert to remember the punk legend last Sunday (20/4). The band called the 101ers played their first show since splitting more than 25 years ago. 500 fans made their way into the Tabernacle arts Center in Notting Hill, west London. The 101ers were there to launch the Strummerville charity, set up after the former Clash star died last December. The show raised $2,365 for the charity.
At the show, former Clash guitarist Mick Jones joined the 101ers on stage for several Clash classics, including 'London Calling.' Strummer formed the 101ers in 1974. The band was reportedly named after the flat where they lived at 101 Walterton Road, Maida Vale, London. They became well-known on the local punk scene but two years later, Strummer left to form The Clash.
101ers drummer Richard Dudanski told BBC News Online, "It was very emotive. People went wild musically, and it was a really lovely feeling. It wasn't somber - how could it be with rock 'n' roll?"
Actor Keith Allen also took the stage to read a song Strummer wrote with U2's Bono about former South African president Nelson Mandela. Also performing were Wilko Johnson, one of Strummer's early inspirations, and Tymon Dogg, who was in Strummer's last band, the Mescaleros. The Mescaleros' final album, much of which had been recorded before Strummer's death, is expected to be released in May. The 101ers are also planning to release an album of their material.
Thanks to Karsten Roekens
---
Jah Wobble recently appeared on BBC Radio 6 as part of the 'My CD' series, where artists pick some of their most influential tracks from throughout their lives. An archive of the show can be found on the BBC site.
The Radio 6 web site also has a 3 part documentary on 'Punky Reggae' which may interest many of you...
---
23rd April 2003
Jah Wobble is set to tour the States in June. Confirmed dates are below, keep checking here and the 30 Hertz web site for further info.
Wed 18 New York, NY Knitting Factory
Thu 19 Chicago, IL Abbey Pub
Sun 22 San Francisco, CA Great American Music Hall
Tue 24 Portland, OR Berbati's Pan
---
Martin Atkins was recently interviewed at Godsend Online
Thanks to Karsten Roekens
---
Ted Chau's Candyheads new single 'Open' has been cancelled, and the new album 'Go Forth And Multiply' is postponed to 5th May.
Lou Bernardi's Fortune Orchestra will play the Kenilworth Inn, Kenilworth, New Jersey, 28th April...
Jebin Bruni plays two US shows in May with Aimee Mann (3.5. Nashville/4.5.Atlanta). Then a 10 date US tour (24.7.-22.8.)
Thanks to Karsten Roekens
---
17th April 2003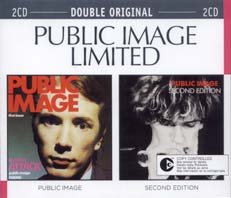 Apologies for the delay updating... Mid-March saw Virgin Records release a 2 CD budget re-issue, featuring the normal versions of 'First Issue' & 'Second Edition', housed in a double CD case, as part of their '2CD Double Originals' series. It's all a bit cheap and (un)cheerful, but I suppose it's a great opportunity to get both albums on CD. However, if you already have them, you won't have any need for this...
---
29th March 2003
30 Hertz have posted an hour long MP3 extract of 'Jah Wobble's Ode To Joy Tour'. Obviously, it will take sometime to download... !
---
To tie in with the Pigface tour - which is now well under way - Martin Atkins has done some new interviews and press, including;
Pittsburgh Post-Gazette
Blogcritics
Inmusicwetrust.com
Thanks to Karsten Roekens
---
Pete Jones is hoping to release a 4 track EP some time this year (working title 'Neurotechnic'). He hopes to distribute it free of charge, keep checking his official site for release info...
Thanks to Karsten Roekens
---
New label Track 2 Records have just signed Ted Chau's Candyheads. The Candyheads album 'Go Forth And Multiply', which was recorded a while ago, will be released on 21st April (cat.no. T2 001), and a new single 'Open' will also be released around the same time. Candyheads are currently on a UK tour, for dates see their official www.candyheads.co.uk web site.
Thanks to Karsten Roekens
---
Lu Edmonds will perform at the 'Freedom Of The City 2003' festival, Conway Hall, London, 5th May. For more info on the festival see: www.emanemdisc.com/festival.html
---
Lou Bernardi's Fortune Orchestra will play the Kenilworth Inn, Kenilworth, New Jersey, 31st March...
---
15th March 2003
John Lydon was interviewed in last Saturday's 'Formula 1 Handbook' given free with The Times (UK) (8th March), discussing his fondness of Formula 1, and his friendship with Eddie Jordan. A full transcript can be found here.
Thanks to Daragh Breen
---
13th March 2003

PiL's 'Death Disco' (7" mix) features on a new German Dub compilation 'Wild Dub (Dread Meets Punk Rocker)', to be released on 1st May by German reggae label Select Cuts. Available on CD (SC 2017) and 2LP (SC 1017).
The compilation will also include Vivien Goldman - 'P.A. Dub', Basement 5 - 'Immigrant Dub' & 4"Be2"'s - 'One of the Lads (Dub)', plus other punk/dub crossover's from that time... Vivien Goldman also provides sleevenotes.
For full track list etc: www.dub-style.de/sc2017.html
---
1st March 2003
Greg Whitfield who previously brought us the Don Letts interview & 'Bass Cultural Vibrations: Visionaries, Outlaws, Mystics and Chanters', has just published a new interview with On-U-Sound supremo Adrian Sherwood. As well as discussing his love of roots music and his own work, Adrian also talks about PiL, and hanging out with John Lydon, Jah Wobble, Keith Levene, Ari, Sid Vicious & Jah Wobble causing affrays et al.... ! Not to be missed...
Check it out at;
http://www.uncarved.org/dub/onu/onu.html
---
7th February 2003

Having finished the successful 'Ode To Joy' UK tour last week with Deep Space, Philip Jeck & Molam Lao, the new Jah Wobble album 'Fly' is available now via 30 Hertz (30ZHCD19), and all good record shops!
The 30 Hertz web site has recently been updated with info about 'Fly', along with some great new press interviews, many touching on Wobble's time in PiL. All are definitely worth checking out, of course and that's not to mention 'Fly', which is also highly recommended...

Wobble has been invited to appear at the 'All Tomorrow's Parties' event in Los Angeles in June of this year, the event will be curated by Simpsons creator Matt Groening. For more information visit www.atpfestival.com. There is also the possibility Wobble might appear at some North American venues around the same time.
Thanks to 30 Hertz & Patrick MacArdle at the Jah Wobble Discussion List, sign up now!
---
The new Pigface album 'Easy Listening... For Difficult Fuckheads', featuring Keith Levene on the track 'Closer to Heaven' is also available now via Invisible Records.
Invisible have just posted the dates for the forthcoming Pigface US tour. 'The United Tour' featuring Pigface, My Life With The Thrill Kill Kult, Zeromancer & Bile starts March 13th, some dates will have to be confirmed so keep checking the Invisible Records site for updates.

3/13/2003 Thursday Milwaukee, WI The Rave
3/14/2003 Friday Detroit, MI The Majestic
3/15/2003 Saturday Cleveland, OH The Odeon
3/16/2003 Sunday Hartford, CT The Webster
3/17/2003 Monday Baltimore, MD Ottobar
3/18/2003 Tuesday NYC BB Kings
3/19/2003 Wednesday Buffalo, NY The Continental
3/20/2003 Thursday Washington, DC Nation
3/21/2003 Friday Rochester, NY Water Street Music Hall
3/22/2003 Saturday Philadelphia Trocadero
3/23/2003 Sunday Pittsburgh Metropol
3/24/2003 Monday Columbus, OH Newport Music
3/25/2003 Tuesday Winston-Salem, NC Ziggy's
3/26/2003 Wednesday Charlotte, NC Tremont Music Hall
3/27/2003 Thursday Atlanta, GA The Riviera
3/28/2003 Friday Jacksonville, FL The Marquee
3/29/2003 Saturday Ft. Lauderdale, FL Culture Room
3/30/2003 Sunday TBA TBA
3/31/2003 Monday Tallahasee, FL TBA
4/1/2003 Tuesday Baton Rouge, LA TBA
4/2/2003 Wednesday Houston, TX TBA
4/3/2003 Thursday Dallas, TX TBA
4/4/2003 Friday Austin, TX Elysium
4/5/2003 Saturday San Antonio, TX TBA
4/6/2003 Sunday El Paso, TX TBA
4/7/2003 Monday Albuquerque, NM TBA
4/8/2003 Tuesday Phoenix, AZ TBA
4/9/2003 Wednesday Las Vegas, NV TBA
4/10/2003 Thursday Santa Ana, CA TBA
4/11/2003 Friday W. Hollywood, CA The Keyclub
4/12/2003 Saturday Anaheim, CA TBA
4/13/2003 Sunday San Francisco, CA DNA Lounge
4/14/2003 Monday Portland, OR Roseland Ballroom
4/15/2003 Tuesday Seattle, WA TBA
4/16/2003 Wednesday SLC, UT TBA
4/17/2003 Thursday Denver, CO TBA
4/18/2003 Friday Omaha, NE TBA
4/19/2003 Saturday St. Louis, MO TBA
4/20/2003 Sunday Chicago, IL TBA
Martin Atkins is currently travelling the US for spoken word shows. Cities visited will include Cleveland, Pittsburgh, NYC, and Tampa, FL. Again, see the Invisible Records site for updates and more info.
---
19th January 2003
The February issue of 'Uncut' Magazine features a new Keith Levene interview as part of an article about the first Clash LP. The article unfortunately written before recent events, also features the late Joe Strummer & Terry Chimes.
---
13th January 2003
'Religion' has been included on the DJ mix album 'Anotherlatenight', by Kid Loco (WHOA/AZUII Records). Also included is a cover of Gang of 4's 'Paralysed', and a track by Tranquility Bass who once did a terrible remix of a Pigface track!
Thanks to Tim Bucknall
---
Invisible Records are having a release party for the new Pigface album 'Easy Listening... For Difficult Fuckheads', at the Chicago, Cubby Bear on January 27th. Martin Atkins, Chris Connelly, plus loads of other Invisible types will be there. The CD will go on sale at midnight, and as Invisible say, "it's a good chance to get it autographed by 6 or 7 of the 30+ people on the disc"!
A sneak preview of the album can be found at http://www.emusic.com/cd/10741/10741123.html
---
1st January 2003
It has been confirmed that Keith Levene DOES appear on the new Pigface album 'Easy Listening... For Difficult Fuckheads', which is set for release January 28th, via Invisible Records. Keith plays guitar on the track 'Closer to Heaven'. More info soon...
Full tracklisting is as follows:
1. Mind your own business 2. Insect/suspect 3. Sweetmeat 4. Bitch 5. Everything 6. Closer to heaven 7. Blow you away (G.T.F.A.F.M.) 8. Du liebst mich nicht, ich lieb dich nicht 9. King of negativity 10. Miss sway action 11. Binary stream 12. The loneliest sound I've ever heard 13. The horse you rode on
Keith sent us the following New Years Message... !
I'm not a band I'm a company again-HAPPY NEW YEAR ALL YOU GUYS AND I don't know if I like new years eve or not...peace and love...jkl
---
27th December 2002
CABARET BAND UPDATE!
JOE GUIDA played The Grasshoppers in Cedar Grove, NJ on December 26th with The Blast.
LOU BERNARDI & Fortune Entertainment play a New Year's Eve Gala at the Doral Forrestal Conference Centre in Princeton, NJ on December 31st. Then at Nanina's In The Park, Belleville, NJ on January 14th.
ARTHUR STEAD has been credited with pre-production arrangement on Shania Twain's new album 'Up!', which was released on November 19th.
PUNK ROCK AT ITS BEST!!
JEBIN BRUNI will tour Europe with Aimee Mann (21st February - 10th March). They will also play a single show in the UK on 12th March at the London, Apollo.
---
23rd December 2002

Jah Wobble is releasing his first new album in nearly a year on January 27th 2003. 'Fly' will be issued via 30 Hertz (30ZHCD19). For full information, see the 30 Hertz web site. Although very much a solo album 'Fly' includes contributions from 30 Hertz regulars Clive Bell, Jean-Pierre Rasle & Chris Cookson.
January will also see Wobble set out on a UK tour, commissioned by the Northwest Arts Board. 'Jah Wobble's - Ode To Joy' will feature a unique interpretation of BeethovenÁs famous 'Ode To Joy' theme "as never heard before", along with multi-turntablist Philip Jeck. Together with sets by Molam Lao & Deep Space, plus visuals by cult photographer Marc Atkins. Molam Lao will also re-issue their excellent 'Molam Dub' album as part of the tour.

24th Jan - Cargo, London
25th Jan - The Studio, Hartlepool
26th Jan - Lemon Tree, Aberdeen
27th Jan - Roadmenders, Northampton
28th Jan - Boardwalk, Sheffield
29th Jan - Band On The Wall, Manchester
30th Jan - The Brewery, Kendal
31st Jan - The Marquee Night Club, Preston
Again, see 30 Hertz for more information
---
The 'abstract' about PiL featured at the recent Wolverhampton University 'No Future' Punk conference , written by Senior Lecturer Sean Albie (originally mentioned 29th November 2001), is now titled 'You Never Listen to a Word That I Say: John Lydon, Cultural Capital and the Prog/Punk Dialectic') and set to be published next year by the journal Popular Music. (Cambridge Uni Press), probably around April.
Thanks to Sean Albie
---
To tie in with the release of the new Pigface album 'Easy Listening... For Difficult Fuckheads', which is set for release in January, via Invisible Records, 2 secret Pigface shows are already planned for February as well as tours in the US and Europe. See Invisible Records for full info... 2 track sampler's of the album are available via the site. VERY unconfirmed rumours state that Keith Levene appears on the album. Again, these are VERY unconfirmed rumours, more info as we get it...
---
12th December 2002
Fodderstompf were recently contacted by BBC Radio 6 with regards to PiL's infamous gig at The Rainbow on Xmas Day 1978. Radio 6 wanted to do a feature on the gig as part of a special on Xmas Day gigs. We were glad to help, PiL never ever got the credit they deserved for those gigs. We set up interviews, gave them research, BUT at the last minute the feature was cancelled. Why?
Well, they thought the Pistols Huddersfield 1977 gig was Boxing Day, not Xmas Day, we told them and they wouldn't believe us! Finally they realised they were wrong, and decided to drop PiL for the Pistols (usual story). We said, why not do a piece on PiL on Boxing Day, but no... In the end they decided to cover a Sex Pistols tribute band playing a charity gig in Huddersfield this Xmas to benefit striking Firemen, how novel... It's a sad day when PiL get dropped for such a horrible cliché...
---
8th December 2002
The PiL revival continues! As previously mentioned, recently the likes of The Rapture, Radio 4 & Moby have been name checking PiL. Well, the latest band to (sort of) do it are... Guns and Roses!! New bass player Tommy Stinson, ex of The Replacements, sported a black PiL logo T-shirt at GNR's gig in New York's, Madison Square Gardens on Thursday 5th December. GNR also played 'Holiday's In The Sun' over the PA before they came on stage...
Thanks to Eliot Wien
---
3rd December 2002
John Lydon was interviewed in last weekend's UK Sunday Times (1st December). As well as reviewing this years events, the article revealed John is working on a Video/DVD release of the summer's Pistols shows. He's also managed to hurt his back in the process!
Thanks to Daragh Breen
---
Jah Wobble & Deep Space played 2 gigs in Turkey last week (28/29th November) at Club Babylon in Sehbenser Sokaka. There will also be a UK tour at the end of January 2003, Jah Wobble's 'Ode To Joy' with Molam Laos & Deep Space. See 30 Hertz over the next few weeks for full info.
A new Deep Space album will be released early next year, via 30 Hertz. The as yet untitled album will include appearances from a Russian singer and Ernest Ranglin. Wob is also finishing off the soundtrack to 'The Fury', a French film about boxing, the boxing scenes were staged to go with Wob's music. Again, see 30 Hertz over the next few weeks for full info.
Thanks to 30 Hertz & Patrick MacArdle at the Jah Wobble Discussion List, sign up now!
---
Pete Jones has a MP3 of his Xmas single, 'It's Fucking Christmas' available again via his official website. Pete told Fodderstompf, "It's a bit different to the usual Xmas fare dished up at this time of year, but don't expect it to get much airplay. Play it to ya friends and family..."
---

Martin Atkins is finishing off mastering the new Pigface album 'Easy Listening... For Difficult Fuckheads', which is set for release in January, via Invisible Records. Click here for more info on the album.

Invisible are currently giving away 5 free "Happy Holidays... Fuckhead" Xmas Cards with every order received, the cards can also be bought direct from Invisible.
---

'Initials CC' the 25 song 2CD retrospective from Chris Connelly is available now via Invisible Records (UIN 1058). The compilation features the unreleased Damage Manual track 'Ignore The Noise', along with tracks from Revolting Cocks, Finitribe, Murder inc., Pigface, and Chris' 6-CD solo career.
---
30th November 2002
Keith Levene has a extensive new interview in the December issue of The Wire magazine. The 8 page article, including new and rare pictures, is basically Keith's first major interview with the music press in over 10 years, and not be missed. As well as covering his time in PiL thoroughly, his past and present solo career is also discussed.
---