29th March 2002
Apologies for the lack of updates lately...
John Lydon's 'Big Breakfast' appearance with Zig & Zag was finally broadcast last Friday, 22nd March. A pre-recorded interview with Jonathan Ross on BBC Radio 2 was also broadcast last Saturday, 23rd March. Click here for Real Player clips of the show. Look out for further interviews in The Big Issue & NME.
John confirmed he was planning a one-off Sex Pistols all-nighter for this July. However, NOTHING is confirmed yet. He should also have some solo news soon. Watch this space...
---

Jah Wobble's Solaris - Live In Concert (30 Hertz HZCD18) is now exclusively available via the 30 Hertz online shop.
The CD was recorded Live at Kendal, Brewery Arts Centre 25.10.01& Brighton, Dome 27.10.01.

Tracks are; The Mystery Of Twilight Part 1 / The Mystery Of Twilight Part 2 / Seven Dials / Around The Lake Jah Wobble, Bill Laswell, Jaki Leibezeit , Harold Budd & Graham Haynes
---
Keith Levene has recorded an interview for the previously mentioned Punk TV series on UK Play. John Lydon & Jah Wobble have also been interviewed for the forthcoming 10 part series.
Keith is currently continuing work on his Murder Global web site. Keep checking back...
---
14th March 2002
Keith Levene has launched his new Murder Global web site. At the moment it's just a home page, but over the coming weeks it will develop, including some exclusive new tracks and images.
---
Jah Wobble's live Solaris CD will be available this Monday 18th March, exclusively via the 30 Hertz online shop. The majority of the CD is taken from the October Kendal and Brighton shows.
More info soon...
Thanks to 30 Hertz & Patrick MacArdle at the Jah Wobble Discussion List, sign up now!
---
Unfortunately, 'Bad News Mr Swanson' the second US TV pilot John Lydon filmed last year, will now no longer be going ahead. After the events of September 11th executives at Fox, parent company of FX Network, had cold feet about the series due to it's controversial content. Pity...
---
8th March 2002
The aforementioned John Lydon Big Breakfast interview has still not be shown. Hopefully, it will be screened next week, though it is possible it might be held back till Jubilee week...
---
Fresh from the success of last year's 'Radio 4' club night. Poptones supremo Alan McGee has a new PiL named club night called 'Death Disco', starting next Thursday, 14th March, at the London, Metro Club. Tottenham Court Road (opposite the Virgin Megastore), 11pm-3am. Admission will be £5, with dj's Alan McGee, Danny Watson, plus special guests.

McGee describes the new night as, "My vision of what a club in central London should be every Thursday night till we get bored. The musical soundtrack is daf/neubaten/the byrds in 66/techno animal/sex pistols/primal scream/the stones during exile on main street/ian astbury 1983-2002 in all different versions of the cult/the strokes/bmrc/the hives/white stripes and the god given genius of the doors. That's what Death Disco is. Long live the death of the new acoustical movement."
---
Patrick MacArdle brings our attention to a article in last weeks New York Times, comparing Gorillaz with PiL's 1981 Ritz performance...

As Band Takes a Back Seat, Cartoons Come Out to Play
March 4, 2002
By JON PARELES
Back in 1981, Public Image Ltd. played a New York concert with the band silhouetted behind a scrim, and the infuriated audience booed and hurled beer bottles. Expectations have changed since then. On Thursday night at a sold-out Hammerstein Ballroom, Gorillaz were concealed behind a scrim while animated characters and video patterns flashed on a screen overhead. The audience applauded and sang along, disappointed only when Gorillaz repeated two songs for encores.

The difference is two decades of music video, which has accustomed audiences to two-dimensional pop acts with precisely controlled images. That's the way Gorillaz were conceived. The album "Gorillaz" (Virgin) and an extensive Web site, gorillaz.com, present a band of cartoon characters - brown, yellow, pink and green - drawn by Jamie Hewlett, the creator of "Tank Girl."

The songs are by Damon Albarn of Blur with collaborators including the rapper Del Tha Funky Homosapien and the disc jockey-producer Dan the Automator Nakamura. (Mr. Nakamura opened the Hammerstein show by spinning an hour of jovial midtempo hip-hop.) Onstage a seven-member band with three guitars and a disc jockey gave the music a hefty physicality, while Jamal the Last Emperor rapped his own rhymes. Unlike the Archies, Gorillaz don't wrap much narrative around the songs. They drive around, squabble, grimace and growl one-liners at one another. The Gorillaz franchise also includes video clips, games and a prospective animated movie.

The characters' spiky hairdos mirror the music's combination of retro and hip. Gorillaz songs revolve around basic two- or three-chord vamps echoing the late 1970's, when English bands mixed punk with reggae. (On Thursday, Terry Hall of the Specials, one of the era's leading bands, was a guest performer.) Some Gorillaz songs revive the melodica, the keyboard harmonica that Augustus Pablo turned into a 1970's reggae staple; Pablo's minor-key reggae suffuses the Gorillaz' hit "Clint Eastwood." Gorillaz also toss in Mr. Nakamura's beloved lounge- music samples, along with hip-hop scratching and rapping. The raps boast about the characters; one described Gorillaz as "a symbol of the interesting times that we live in." But just as often, the songs had nothing to do with cartoon escapades.

For the finale the rap group D-12 (minus its sixth member, Eminem) performed its collaboration with Gorillaz, "911," clowning in front of the scrim while rapping about Sept. 11. And throughout the set, Mr. Albarn sang in a bleary grumble about loneliness and anticipation that could easily turn to dread; "the digital won't let me go," he warned. As the songs turned plaintive and desolate, the cartoons were only camouflage.
---
4th March 2002
John Lydon arrived in the UK on Saturday, mainly to carry out various press commitments for the Virgin re-release of the 'God Save The Queen' single on 27th May. So far John hasn't commented on the constant rumours about Pistols gigs this year. However, Fodderstompf has been told by reliable insiders that there is a very strong chance the band WILL be playing this summer...
Today (Monday) he was interviewed on Channel 4's, 'Richard & Judy' show. Johnny Rotten on Richard & Judy, brilliant!! The show was a special on the Royal Family and the Queen's Golden Jubilee. JL was brought in as the token anti-royal. However, he surprised the bemused Richard & Judy by agreeing that there should be British royalty, albeit run very, very differently...
John also recorded two pre-recorded TV interviews today. The first, for a forthcoming series on punk to be screened by cable channel UK Play (more info soon). And the second, for Channel 4's 'The Big Breakfast' most likely to be screened later this week...
Today's Mirror 3 am column printed a picture of John arriving at Heathrow, along with info about the Pistols. Mistakenly, they said he was here to re-record a new version of the 'GSTQ" single, as opposed to just reissue it! Scotish sister paper the Daily Record printed the same pic, along with a quote from John about the re-release of the single, "Virgin were going to do it anyway because they are corny, unlike me. So I am here to collect the cash, and celebrate my Jubilee. I may have problems with the Royal family but they are MY royal family".
John has various press commitment's over the next two weeks, so keep your eyes and ears peeled.
---
22nd February 2002
John Lydon will NOT be appearing in the forthcoming US sitcom, 'My Guide to Being a Rock Star', originally titled 'Young Persons Guide to Being a Rock Star'. Although the pilot was filmed with Lydon playing the lead character's father, "a heavy metal dad", ironically he was replaced by Michael Des Barres for the series. The show is set to premiere March 4th on the Warner Brothers network...
'Bad News Mr Swanson' the other pilot Lydon filmed last year, is still planned to go into production sometime soon. Apparently the show has tested well, but executives at Fox, parent company of FX Network, were having cold feet about the series due to it's controversial content. The show centres on a character with a terminal illness who decides to start living when he finds out he is dying. Typically John plays The Grim Reaper!
More info soon...
---
Jah Wobble's live Solaris CD will be available 18th March, exclusively via the 30 Hertz online shop. The majority of the CD is taken from the October Kendal and Brighton shows.
More info soon...
Thanks to 30 Hertz & Patrick MacArdle at the Jah Wobble Discussion List, sign up now!
---
What's the most hated PiL line up? It's got to be the 1983 live band! Well, our interpret reporter Karsten Roekens has tracked them down and is lining up exclusive interviews as we speak. Should be very interesting!
Here's a brief summary of what the guys are up to:

Lou Bernardi (Bass) - Lou is now playing in a wedding band called 'Fortune Orchestra'! Their official site has a recent picture of Lou "Rod Stewart" Bernardi here!
Joe Guida (Guitar) - Joe is also playing in a cabaret band. 'The Blast' actually played New Jersey, Grasshoppers yesterday (Thursday, 21st February), and have more dates booked soon. If you want to book The Blast for weddings, bar mitzvahs or parties, then visit their official site!
Tom Zvoncheck (Keyboards) - Tom has his own ZKG Recording and Mastering Studios in New Jersey. He released an instrumental prog-rock solo album in 2000 entitled 'ZKG', and plans to release the follow up 'ZKG 2' (!), along with a new jazz record in 2002. ZKG Official Site
More info soon!!
Big Thanks to Karsten Roekens
---
Radio 4 update: Thanks to our illustrious founder M, we've managed to track down links for the band, which you can now find on our message board. M describes them thus, "Upon first listening I would say they are very Gang O Four like with a little Dub thrown in. Not bad, but certainly un-PiL like more kinda glangy, jumpy guitar kinds stuff from late 70's early 80's."
---
19th February 2002
It's probably worth mentioning that in the previously mentioned Mojo Magazine "Heroes" article, 3D from Massive Attack picks PiL as his heroes. Good man, 3D and one of the few people who ever admits to liking PiL...

Robert Del Naja (3D)
Hero: Public Image Ltd
I'd say Public Image Ltd, the whole group rather than just John Lydon, because it was a combination of the people. When the first single came out I was blown away by the transition; when 'Metal Box' came out there was nothing even close to it. It was all about basslines, the production stripped right back to a simple form and arranged so it didn't get clogged up, very sparse. PiL really affected my adolescence: what I got into places I went to, people I met. It got me into the whole Wild Bunch thing in the early '8O's. I met Lydon when we played at a festival in Italy. The Pistols went on to a hail of stones and rocks. I said, "Fuck mate, if you got that we're going to get hammered " He said, "Don't worry about it, it's show business.''
I should also have mentioned a pic of Lydon features on the magazine cover, and another of him and his Father feature inside the mag. That'll teach me to try memorise it all in the shop instead of just buying it!

John Lydon
Hero: Gandhi
Who's my hero? Gandhi (Points to his father nearby) My dad's Gandhi... You mustn't think in silly terms of a favourite person. It's like top ten hits - it's a competition mentality. It ain't like that in the real world. Reggae heroes? Yeah, I have but that's my business, that's my personal taste. My taste shouldn't influence others. I like Reggae - that's my business, not yours. Do I think that's a conceited view to take? (Nastily) Shut your mouth ! You're the arsehole in front of me with the microphone, you tell me who's taking the attention. Now go away little boy, before Johnny gives you a slap.
---
Apologies, I had the wrong date for the Wobble & Deep Space Kent gig. The correct date is
29th March - Deal, Kent
Also, the Temple of Sound - 'Shout at the Devil' release date is 25th Feb, not 24th.
Thanks to 30 Hertz
---
Lu Edmonds features on Billy Bragg's new single 'England, Half English' b/w 'St. Monday'. Released 18th Feb. Billy's new album of the same name will be released on 4th March. A North American tour is presently set up, the dates can be found at Billy's official site.
Thanks to Karsten Roekens
---
15th February 2002
Martin Atkins has set up an E-Bay store for selling off some of his previously mentioned memorabilia. PiL items currently available include;

Martin's PiL luggage tag from 1983 Japanese PiL tour
Another signed 'Metal Box' sealed in the unused PiL logo tape
Sets of, still sealed, original PiL badges from 1984 tour
A Damage Manual tour back including laminates, pix, stickers etc is currently available too

The Underground Inc E-Bay store also has rare items on Pigface, Killing Joke & Ministry. Apparently we can expect more soon! Check it out...
Rob at Underground tells us Martin is currently in the studio continuing work on the new Pigface CD. He is also working with Chris Connelly on his new CD. Apparently there are "some Damage Manual ideas kicking around too" (Obviously minus Wobble!). We'll keep you informed...
---
Jah Wobble / Temple of Sound officially release their 'Shout at the Devil' collaboration on 25th February. The CD had previously only been available via the 30 Hertz online shop.

Those wanting to buy Wobble's music on MP3 can do so at www.goodnoise.com. Simply enter Jah Wobble (etc) in the search engine. A full subscription, allowing unlimited downloads, costs around £7.99 a month. The site has a wide variety of 30 Hertz material to choose from, and unlike most MP3 sites the money will filter back to the artists...
---
John Lydon will be actively promoting the forthcoming Sex Pistols box set, GSTQ single and singles compilation. As well as various magazine/media interviews John will be doing the voice-overs for the TV adverts. Still no definite news on the Pistols Golden Jubilee shows, honest... Check out God Save the Sex Pistols & Solo Promotions for updates.
Channel 4 (UK) repeat 'Top Ten - X-Rated' this Saturday, 16th February, 11.05pm. Originally shown last April, the show introduced by John Lydon, features a run-down on banned records such as NWA, Madonna, Frankie Goes to Hollywood, and of course, the Sex Pistols...
A brief interview excerpt with John, from last years Q Awards, appears in the latest issue of Mojo Magazine. As part of a feature about rock stars picking their "heroes". Reluctant to pick anyone, John chooses between his Dad & Gandhi...
Thanks to Geo for the info
---
Look out for the New York trio Radio 4. Named after the PiL track (not the radio station!), apparently the band are huge PiL fans. The Evening Standard described them as "an intriguing mix of dub, bass, edgy guitars, and wired vocals". Sounds good to me... Anybody heard them?
Thanks to Geo for the info
---
10th February 2002
Jah Wobble & Deep Space have a few UK dates lined up. There should be some more dates soon so keep checking back.
28th February - Norwich, Arts Centre
8th March - Harlow, The Square, Essex
29th March - Deal, Kent
The forthcoming Solaris live CD has now been mixed will be available in a few weeks via the 30 Hertz online shop. More info as we get it...
---
7th February 2002
Keith Levene Update!
Right, once again apologies that I haven't got round to typing up the Keith Levene interview. There is no problem with it, the interview is done and dusted. I've been snowed under lately and I just can't seem to find the time to get it ready for the site. Hopefully, I'll get round to it soon... The interview is very much a follow up to the excellent Perfect Sound interviews, focusing on Keith's present and future plans. In the meantime here's a brief summary of Keith's plans...
The Missing Channel web site is no longer on-line. However, expect something new in the future. Missing Channel, now looks to have run its course. Murder Global will be his latest project.
Keith is currently working on a selection of new tracks. Dan, his bass player from Missing Channel, is no longer involved. It's looking likely Keith will be working alone for at least the time being. Writing, playing & producing all his own stuff. Tracks currently in progress include; 'Killer in the Crowd', 'Object B', 'Ghost March'. His latest two tracks are 'O Ho' & 'Far Cry', which he describes as his some of his best work to date...
Having had the privilege of hearing some of the new tracks, I can safely say they will be worth the wait. The tracks are unlike his previous solo work, and although some feature the classic Keith Levene sound, none of them are dated or PiL clones. The tracks are pretty hard to describe, which can only be a good thing. The interview will explain more... All are very different, a great mixture of rock, electronica, ambient & dub. But all are fresh, and definitely now.
Keith currently has no release date for the Murder Global material, but he's plodding away, and once he feels the tracks are ready he will release them. But only then... There are no plans (ever) for a tour (this is Keith Levene!), but it's a possibility that he may play some one-off shows after the record is released.
---
4th February 2002
Martin Atkins is currently working in the studio on a new Pigface record to be released later this year. He will also be spending some time in the studio over the next few months working on projects with Chris Connelly, Charles Levi, Opium Jukebox, VooDou and several others, assisted by engineer Julian Beeston. They both will be working on several remixes and some other very special projects to be announced very soon.
E-Bay has another copy of the CD edition of 'Metal Box' signed by Martin Atkins, sealed in the unused PiL logo tape. The auction runs until Saturday February 9th. Martin will be auctioning various rare pieces of his PiL memorabilia over the next few months. Going on what he told us in his recent Fodderstompf interview, there could be some very interesting stuff appearing. Keep checking back for more info... Martin also has some additional auctions on E-Bay, including rare Pigface and Killing Joke memorabilia.
Thanks to Rob from underground for all the info
---
30th January 2002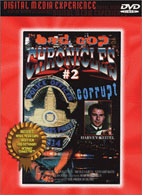 John Lydon's 1983 movie 'Corrupt' (aka Order of Death & Copkiller) was given a DVD release last year by Brentwood DVD. Similar to their previous video cassette release of the movie it's been issued as part of Brentwood's 'Bad Cop Chronicles'.

The DVD does feature extras, however, none of them have anything to do with the movie. In fact, it even features a Casper the Ghost cartoon!! As you can see the packaging is as bad as the extras... Will we ever see a decent release of this movie?
Corrupt
Brentwood Communications, 44040-9
Region 1 (US & Canada)
The DVD should be available through all main DVD dealers. Amazon are selling it for only $4.99
Thanks to Dino Everett
---
18th January 2002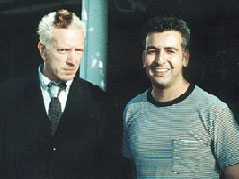 John Lydon's appearance on Politically Incorrect apparently went down a storm. It seems he was in top form and took no prisoners!
F&F reader Kenney Garrett went along for the screening and managed to ask John about the Pistols rumours after the show; "Until you hear it from me there is NO show!"

Better late than never, here's a pic of John and Kenney from his last appearance on the show back in August 2001.

Thanks to Kenney

---
12th January 2002
John Lydon is set to appear (yet again!) on the US debate show 'Politically Incorrect' this Wednesday 16th January, ABC Network (USA). John will be joined by actors Peter Boyle & Tom Wilkinson.
---
10th January 2002
Pete Jones has a new interview at the LA Obscene web site, discussing his recent 'Twisted' album, his time in PiL, and his plans for the future.
Thanks to Don Lampman
On the subject of Pete Jones, look out for a possible exclusive track available via Fodderstompf in the near future...
---
Lu Edmonds appears on Billy Bragg's new album 'England, Half-English' due for release 4th March. Lu will also be touring the UK with Bragg in March. See the official Billy Bragg site for full info.|
Thanks to Karsten Roekens
---
6th January 2002
Jah Wobble's Solaris (last year's collaboration with Jah Wobble, Bill Laswell, Jaki Leibezeit , Graham Haynes & Harold Budd), are set to record a studio album for release later in the year. There should also be some US live dates around Spring or Summer.
---
Martin Atkins Pigface are set to release a DVD of highlights of their recent US tour sometime in the summer. You can now buy tour merchandise via the Invisible site.
Invisible Records are still looking for unsigned bands for their 'Notes From Thee Real Underground' CD series. Again, check out the Invisible site for more info.
---
Ted Chau's Candyheads have a series of London dates planned for the next few months, starting this Thursday (10th) at the London, Barfly.
Having recently added guitarist Hannah Fautley & drummer Laura Conway to their line up, the band are planning to release a new EP early this year. The EP's will initially be available via the Candyheads site, more info as we get it...
Thurs 10th January - London, Barfly @ The Monarch, 52 Chalk Farm Rd, NW1
Fri 18th January - London, Wolfie's Juke Box @ The Castle, 38 Tooting High Street, SW17
Tue 5th February - London, Hope and Anchor, 207 Upper Street, Islington N1
Sat 9th March - London, West One Four, West Kensington
---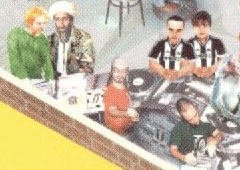 This pic features on a leaflet advertising the Best of 2001 by Q magazine (look carefully). To be honest I don't know who's current plans are harder to find out, John or his brother Bin Lydon...
Thanks to Richard, M & Bryan
---
28th December 2001
PiL Live 83 (Live in Tokyo) has just been given a DVD release in Japan (Nippon Columbia COBY-4139). Apparently the release features no extras, but as expected, has improved sound / picture quality.
Unfortunately, there is no sign of the far superior Japanese 'Anarchy Movie '85' getting a DVD release.
Remember, you can also get PiL's live performance of 'Careering' on the 'Old Grey Whistle Test' 5.2.80 on DVD. As featured on the recent BBC 'Old Grey Whistle Test' DVD compilation.
---
Vivien Goldman's 'Laundrette' single, co-produced by Levene & Lydon, has recently been given a CD release on the German compilation 'Anti NY' (Gomma Records 015). The CD features the original version of 'Launderette' along with a specially commissioned 2001 remix - 'Launderette' (Munk version). See Levene & Lydon solo discographies for full info.

You can listen to an MP3 of the new remix and order the CD at their official site.
Thanks to Karsten Roekens for both information
---
20th December 2001
The rumour mill has been in overdrive this week regarding a possible Sex Pistols reunion next year to tie in with the Queen's Golden Jubilee. Various 'insiders' and promoters have been making noises about gigs. But as John Lydon told Q Magazine recently: " It ain't no big deal unless I make it so".
---
16th December 2001

Jah Wobble releases his collaboration with Temple of Sound on 30 Hertz this week. 'Shout at the Devil' will initially be available exclusively via the newly opened 30 Hertz online shop for £10.
The album features Natasha Atlas on two tracks, Nina Miranda of Smoke City on two tracks, and Shahin Badar of Prodigy fame on one track.˜
The title track, 'Shout at the Devil' is featured on the free CD given with the January issue of The Wire, on sale on 26th December 2001.˜ You can also download the track via the 30 Hertz web site.
The previously mentioned Solaris Brighton gig will be aired on BBC Radio 3 'Mixing it' December 23rd.