15th November 2002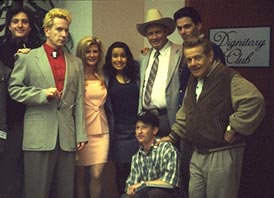 DVD Releases!
The Independent, the movie featuring a brief appearance by John Lydon, has received a Region 2 DVD release in the UK & Europe by ILC Prime (IPD10707). The disc should be available in most shops. HMV UK are selling it for £6.99.
The comedy, directed by Stephen Kessler, is loosely based on the life of independent/B-Movie producer Morty Fineman. John only appears in one scene, playing BaRuce Diamond (a 'camp' town official). Jerry Stiller, Janeane Garofalo & Ginger Lynn Allen also appear. See the official Fineman Films web site for more info, stills etc.
---
The promo video for 'Public Image' appears on a new EMI punk DVD compilation. Imaginatively titled, 'The Greatest Punk DVD' ( EMI, 4929649, Region 2). The Rich Kids & The Professionals also appear on the disc.
---
The DVD release of the recent, and surprisingly good, 'Never Mind the Bollocks - Classic Albums' documentary, featuring an extensive John Lydon interview, is set for December 2nd (Eagle Rock, EREDV282, Region 2). The disc is expected to feature extra material not broadcast on the TV show.
'The Greatest Punk DVD' & 'Classic Albums' (pre-order) are available via Amazon.co.uk
---
8th November 2002
Last Friday, 1st November, John Lydon attended the qualifying sessions at the Indy CART Race in Fontana, CA. John is friends with CART FedEx Series driver Jimmy Vasser. While there John was interviewed on SpeedTV, as well as his connection with Vasser, he spoke about the recent Pistols Jubilee gigs and the upcoming film of his book. Incidentally, he was also shown on camera during the recent coverage of the US Formula 1 Grand Prix in September.
Thanks to Frank Moriarty & Alex V
---
The aforementioned film of John's book 'Rotten...', backed by Rhino Films will be directed by Penelope Spheeris. The original script has been rejected, and it now looks like a new writer will be drafted in to replace original scriptwriter Jeremy Drysdale.
---
Moby picked John Lydon & PiL as part of his favourite artists for the Channel 4 (UK) music show 'Back to Mine' (Wednesday, 7th November). Moby stated how Lydon was a major influence on him, and talked about his respect for John and above all his lyrics...
Previously mentioned PiL named NY band Radio 4 have just released a new album 'Gotham'. The lead track 'Our Town' has a very 'Socialist' inspired intro. You can download a MP3 of the track at the band's official site. However, the whole album is very much worth checking out...

So with Moby namechecking PiL, The Rapture's reworking of 'Memories', and Radio 4 in the spotlight. Could we finally be seeing a PiL revival... ?
---
Check out these links
Thanks to Greg Whitfield
http://www.geocities.com/thewhiteriot/Biography.html
A Clash page with loads of early memories of Keith Levene hanging out with Simonon, Scabies etc...
http://www.czukay.de/visuals/visuals2.html
Official Holger Czukay site, featuring (slow loading) videos of Wobble jamming with Can members.
---
Ted Chau's Candyheads have recently relaunched their website www.candyheads.co.uk
They also play the following gigs this month, along with Sign of 4 (fronted by UFO vocalist Phil Mogg).

9th - Salisbury, Arts Centre
13th - Southampton, Brook
14th - Hull, Moriarty's
16th - Swansea, Patti Pavilion
17th - Dudley, JB's
18th - Brighton, Pressure Point
19th - London, New Marquee
20th - Ashton-Under-Lyme, Witchwood Rooms
21st - Southend, Chinnery's
23rd - Oxford, Zodiac
28th - Derby, Flowerpot
---
29th October 2002
John Lydon is present a one hour Alice Cooper documentary, 'Billion Dollar Baby' on BBC Radio 2, this Saturday 2nd November at 2000 GMT. See the official BBC site for full info...
---
See articles for two major new features by journalist, and major PiL fan, Greg Whitfield.
'Bass Cultural Vibrations: Visionaries, Outlaws, Mystics and Chanters'
This is a very in-depth article, covering not just PiL, but the whole Post-Punk / Avant-Garde / Dub scene. In this extensive and highly detailed article Greg covers the origins of the Dub/Punk crossover from Jamaica to London. PiL and their entourage feature heavily throughout. Along with the likes of Jah Shaka, Adrian Sherwood and Lee Perry, bringing the story up to date with London's Disciples and More Rockers.
The whole article comes from a fresh perspective, not simply retreading the usual bollocks. For example, among the 'PiL' subjects covered are John's trip to Jamaica, The Steel Leg EP, and the often ignored PiL / On-U-Sound crossover, I'm sure all PiL/Dub fans will love it!
The article has just been published at the on-line '3AM Magazine'. Check it out here. However, the Fodderstompf version is far more in-depth, including many extra points on PiL. Kindly added by Greg especially for us...
Greg's second article is a new Don Letts interview. Again, not solely focussing on PiL. Greg discuses Don's career from the pre-Roxy days, through punk (including the Pistols, Lydon & PiL), up to his present day film and DJ work. Although Don has done plenty of interviews in the past regarding punk, and especially The Clash, this interview concentrates more on the man himself, and his love for reggae, and what it means to be 'Black British'.
Greg Whitfield is currently engaged in researching and writing a book on the avant garde/sound system and bass culture, which has been emerging out of London over the last twenty-five years up until the present time. Watch this space for updates...
---
John McGeoch update via his daughter Emily, thanks to Karsten Roekens.
"My Dad's just doing some music for TV at the moment, and he's going to do an interview with some guy next week for TV as well. So he is still in the business... He told me to tell you the reason that you could not find anything on the net about him after 1995, is because that's when he became a nurse. He is now a qualified nurse for a nursing home, but he did not want to pursue his career, and went back to doing bits of music instead..."
I have to admit, of all the things I expected John McGeoch to be up to, that hadn't crossed my mind! I wonder if the promo video for 'The Body' influenced him! Good to see him back on the scene...
---
The previously mentioned Chris Connelly retrospective 'Initials C.C', set to be released 12th November, will feature the unreleased Damage Manual track 'Ignore The Noise'.
---
CABARET UPDATE:
JOE GUIDA plays Grasshoppers in Cedar Grove, New Jersey with The Blast on 14th November.
LOU BERNARDI plays the Kenilworth Inn in Kenilworth, New Jersey with Fortune Entertainment on 29th October.
---
13th October 2002
No, I'm not dead! Apologies for the lack of updates lately, I've had to put the site on the back burner for a while. Plus, anyway, it's been a bit slack on the PiL people front lately...
Incidentally, you may have noticed the John-Lydon.com message board now redirects to the Fodderstompf board, I know NOTHING of this. But should you be a new Fodderstompf visitor, welcome...
---
Check out the new interview with Martin Atkins at TrakMARX. Martin discusses his time with PiL in great detail, and also reveals future plans for a book, the possibility of working with Keith Levene again(!), and explains his recent letter to Mojo concerning John Lydon...
The new Pigface album 'Easy Listening for Difficult Fuckheads' is nearing release, see the official Pigface page for full info. The album features the likes of Chris Vrenna, Fallon Bowman (ex-Kittie), En Esch, Meg Lee Chin and Chris Connelly, and many, many more!
Martin will be DJ'ing across America this autumn, playing "unheard" Damage Manual, Ritalin, Pigface tracks and more, along with tracks from the new Pigface album.
---
Jebin Bruni features on the new album by Aimee Mann 'Lost In Space', released on 27th August. He plays piano, Prophet 5 synthesiser and chamberlain. www.aimeemann.com
---
Lu Edmonds contributes saz and vocals to The Mekons new album 'OOOH!', released 20th August. He guested on their 25th Anniversary US tour which started on 30th August, before joining Billy Bragg & The Blokes for their European tour 18th-28th September. The Blokes will tour the UK from 14th November till 1st December.
Of course, Billy Bragg should be avoided like the plague, after his recent jubilee/Lydon comments, hope he liked the advert in the programme...
---
Due to an enforced lay off caused by getting a new drummer Ted Chau's Candyheads are back playing live again. Confirmed dates for this month are;
15th - Surrey Uni, Guildford
16th - Aldershot, West End Centre
26th - Ipswich, Steamboat Tavern
More dates are expected to follow, check out their official Candyheads site for full info...
---
21st September 2002
You may have heard the rumours about a forthcoming PiL reunion due to John's comments at the end of the Pistols Inland Invasion gig last week. He was JOKING!
On leaving the stage JL spotted a kid in the crowd wearing a PiL T-shirt, to which he commented, "and to this guy here I will be back next week with PiL". That's all, don't get too excited...
---
Time Zone - World Destruction was featured at the end of The Supranos on HBO this week. I wonder if anyone knew what it was!
---
Invisible Records will be releasing a 2 CD Chris Connelly compilation in November. The still untitled set will reportedly feature unreleased Damage Manual material, along with tracks from the likes of Rev Co, Fini Tribe, and a selection of solo material. Pigface are nearing completion of their new studio album.
---
Remember you can still ask original PiL drummer Jim Walker anything you ever wanted to know, thanks to the special e-mail address Jim set up via Fodderstompf.
Take the chance while you still can.
publicimagejim@aol.com