28th February 2004
John Lydon has confirmed he will be appearing on the 'Jonathan Ross Show', BBC1 (UK), 12th March.
---
If you missed it and still want to check it out Keith Levene's recent BBC Radio 6 interview with Tom Robinson will only be available on-line until Monday, via the Tom Robinson page on the www.bbc.co.uk/radio web site.
As well as talking about PiL and early punk days, the interview comes right up to date with Keith's MurderGlobal project, and even plays new mixes of 'Aztek DUBD' & 'Killer in the Crowd' that are currently available, along with the original version of the Pigface collaboration 'The Love We KNEW'. Keith reveals that he now considers 'The Perfect Crime' album almost complete, and hopes for a June/July release, with some gigs "not a tour" to support it. He also talks about the forthcoming Martin Atkins collaboration, and has some interesting comments on John Lydon's recent 'I'm a Celebrity' appearance...
Expect an announcement from Martin Atkins Underground Inc. very soon with full release info for the new MurderGlobal EP. Keith's MurderGlobal web site will also be upgraded in the very near future...
Thanks to Teresa O'Hara
---
If you had problems trying to download the IDC 'Freedom is Coming - Death Disco' MP3, try the link below. Failing that contact IDC via their web site...
http://www.btinternet.com/~boots2003f/idc_-_freedom_is_coming_-_death_disco_remix.mp3
---
As well as the previously mentioned 'Death Disco - Songs From Under The Dance Floor 1978 - 1984' CD, another compilation entitled 'Death Disco' has also just been released. However, please note that 'Ivan Smagghe Presents Death Disco' (Eskimo Recordings) is a Electro and Techno DJ mix album that does not feature any PiL tracks...
Thanks to PR Paul
---
25th February 2004

The EMI post-punk compilation CD 'Death Disco - Songs From Under The Dance Floor 1978 - 1984' is now available on Budget Release (EMI 7243593786 26).
The CD features PiL's 'Death Disco' (7" Mix) along with along with 'Haile Unlikely by the Electric Dread' from the 1979 Steel Leg EP, featuring Keith and Wobble, along with Don Letts (click here for full info). This is the first time anything from Steel Leg has ever received a CD release and is worth buying for that fact alone... The set compiled by Roger Quail (Cabaret Voltaire / Clock DVA) also includes sleevenotes with background info. And while it's good to see Fodderstompf was helpful, it's just a pity they didn't pay a bit more attention, as (for the 900th time) John Lydon has no involvement in the Steel Leg... !
The disc also features the likes of Throbbing Gristle, Delta 5, Gang of Four, XTC, Human League & Buzzcocks, and at around only £6 it's well worth checking out. It's certainly far more interesting than EMI Catalogue's usual 'punk by number' compilation's, and it's great exposure for so many rare and obscure tracks especially now 'post-punk' is so popular with 'the kids' ...
Another budget EMI compilation '80's Alternative - The Darker Side of the Decade' (EMI, 5951772) has also just been released. The disc includes 'This is Not a Love Song' as well as tracks by the likes of Killing Joke, Bow Wow Wow, Talking Heads & Devo.
---
'Ego Problems', the previously mentioned Mash Up bootleg by IDC - featuring Grafiti's 'What the Problem is' mixed into the Audio Bully's 'Ego-War', together with a sample of John's vocal from 'Problems' - will be getting a vinyl release March 8th, via Artifax Recordings (RTX001) as part of the 'IDC Boots The Bullys' 3 track 12". See the IDC site for full order info etc...
This release is not to be confused with Go Home Productions 'Pistol Whipped' which is also getting a vinyl release. See GSTSP / Go Home for more info...
The kind chaps at IDC are currently making available an exclusive remix featuring PiL's 'Death Disco' along with samples of Bishop Desmond Tutu! Never given any release before this mix is only used at IDC DJ sets, but is available for a limited time as an exclusive MP3 Download! "It's a f*cked up remix thing that I made for playing out in DJ sets and always goes down a treat... It's not just one of my mash-up booty things but a little more special to me, I'd love PiL fans to be able to hear it..."
http://www.btinternet.com/~boots2003f/idc_-_freedom_is_coming_-_death_disco remix.mp3
Thanks to Mr IDC !
---
The Academic Journal 'Popular Music' (Cambridge Press Vol. 22/3) published last November features an 18 page article on John Lydon / PiL entitled 'Know History!: John Lydon Cultural Capital and the Prog/Rock Dialectic'! (An earlier version of the article was previously published at the 'No Future Conference at the University of Wolverhampton in 2001.)
The article argues (favourably) Lydon's effect in shaping Popular Culture, as well as discussing the relationship between prog rock, punk & post-punk...

Article author Sean Albiez is Subject Leader of 'Popular Culture & American Studies' at the University of Plymouth, and while never shying from the Academic there is still a genuine passion for what he is writing. I quite openly admit some of it was very hard to read, and at times way over my head, but given the nature of the article that was to be expected... Of course you could argue the point of such an article, and why Lydon or PiL should even be discussed in these circles, it's not exactly punk is it maaan, or is it... ? Still, that's not the issue, and given the lack of respect PiL & Lydon generally receive I applaud the effort... Though I have to admit I reckon even I would fail my PiL PHD... !!
Thanks to Sean Albiez & Moe Anders
---
21st February 2004
Two Sides to Every Story...
John Lydon will be interviewed in tomorrow's Sunday Mirror. Hear the truth from the Horses Mouth...
---
Just a quick reminder that Keith Levene will be appearing on Tom Robinson's Evening Sequence BBC Radio 6 this Monday, 23rd February 8pm (UK). The show is archived for about a week and can be accessed online at: www.bbc.co.uk/radio and then click on BBC6 - Tom Robinson - Monday...
Thanks to Teresa O'Hara
---
12th February 2004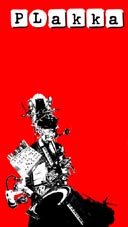 Please note Keith Levene will be appearing with Plakka at The Eye, 79 High Sreet Stoke-Newington, not Church Street as previously stated...
Thanks to BK13
Sat 21st Feb at "the EYE" 79 Stoke Newington High Street , London N16
The night is free , 8 till late , strictly no entry after 11pm , Disc Grinding , Visuals and Support . Please pop along .
Expect Disc Grinding with : Suicide , P.i.L , Polyrock , The Slits , Material , Human League , Stereolab , Can , Kraftwerk , Pere Ubu , The Cramps , Ui , Felix Da Housecat , Colder , Relaxed Muscle , Add N to X , Chris and Cosey , Joy Division , Martha and the Muffins , Pauline Murray , John Cooper-Clarke , Kasenetz Katz , 1910 Fruitgum Company , Velvet Underground , The Seeds , E.L.P , King Crimson , Cluster , Terry Riley , Neu , X-Ray Spex , Bowie , Roxy Music , Eno , The Upsetter , Mighty Two , Sun Ra , Flying Lizards , Electronicat , Lynfield Pioneers , Juan Maclean , Legowelt , Peaches , Adult , Pulp , Happy Mondays , Spacemen3 .........screaming garage through glamorous alternatives to pulsing electronic rock ...... I want more + more + more + more + more + more + doo.....doo-da-doo.....doo-da-doo-doo-doo....
---
9th February 2004
On the back of John's I'm a Celebrity appearance, VHI UK will be repeating Rotten TV this week! (Thanks for the support guys, it's only 5 years too late...) Two episodes will be shown tomorrow, Tuesday 10th February, starting at 9pm. Then again on Thursday 12th February, 10pm. It's unclear if only two episodes of the three completed shows will be broadcast, or a mixture of the three. Also see MyDigiGuide.
Thanks to Laurent Lecoq
---
7th February 2004
Keith Levene will be appearing with Plakka at The Eye, Church St, Stoke-Newington, London on Saturday, 21st February. He will also be appearing on the BBC Radio 6 Evening Sequence on Monday, 23rd February at 8pm.
Thanks to Teresa O'Hara
---
1st February 2004
Jah Wobble & The Invaders Of The Heart …English Roots Music UK Tour Dates
26 March - Whitby, The Compass Club
8 May - Carlisle, The Brickyard
26 May - Norwich, Waterfront
27 May - Sheffield, Boardwalk
28 May - Kendal, Brewery Arts Centre
June 11 - Hebden Bridge Trades Club
More dates still to be announced, check 30 Hertz for updates
Wobble also plays a gig with Philip Jeck & Jaki Leibezeit on Saturday 14th February at Stuk Kunsten Centrum. Again, see 30 Hertz for more info.
---
Rolling Stone recently voted their 'Greatest 500 Albums of All Time', with 'Metal Box' being voted in at #469 (NMTB was a more respectable #41). Although part of me likes the fact these records are getting a mention, I HATE the fact they're lumped in there with all the other Coffee Table albums. Lists like these are just pointless. I think everyone should be able to hear 'Metal Box' & 'NMTB', but if you're only buying it because you think you have to, fuck off...
Thanks to Mike Noto
---
Nick Launay, who is set to mix John's new solo album, is interviewed in the February issue of 'Mix Magazine'. The interview touches briefly on his work with PiL.
Thanks to Joe Castleman
---
24th January 2004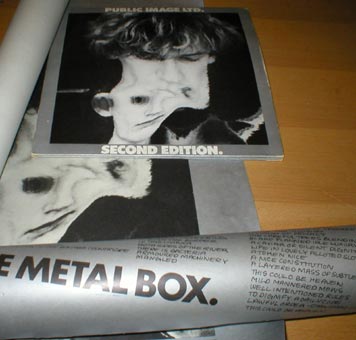 Martin Atkins is currently auctioning a nice 'Metal Box' pack on E-Bay. Click here for full info...
"The package includes the double vinyl in good condition, BUT the main items are the two posters - one is the metal box NOW poster from the publicity campaign in 1979 - in great condition... (held up by magnets NOT tape) BUT ULTRA RARE is the silver and black cardboard poster accompanying this which has all of the lyrics re-printed. Plus the Metal Box CD release!"
While working on his forthcoming book, Martin has came across some interesting items he hopes to include...
"I am going through some really interesting stuff here - I cannot beleive the things that I have.......from ridiculous stuff like my ticket to Paris (Paris au printemps) + itinerary etc to the trumpet I used on flowers and the mickey mouse watch and all kinds of silly things too....room servioe receipts from australia, photos photos photos galore - some amazing ones of john............rare from that time when we were very careful about press etc....... I'm slowly organising and putting it all together...."
---
22nd January 2004
I actually forgot to mention that in the new MOJO, featuring the Lydon interview (see News 15th Jan), there is also an article about Primal Scream featuring quotes about the band from Jah Wobble, along with a pic of him on stage with the band at the Aylesbury Reaction Club.
---
20th January 2004

Johnny's off to the jungle, but he's only in it for the Monkey, and he's taking Wall-Mart with him...
Yes, it's true! John Lydon WILL be appearing on the new series of I'm a Celebrity Get Me Out Of Here! and you can hear all about it direct from the horses mouth in our exclusive 'I'm a Sex Pistol Let Me in There!' interview.
The UK series starts January 26th on ITV 1, and will also feature; Glamour Model Jordan, Fraudster Lord Brocket, Ex-Footballer Neil Ruddock, Athlete Diana Modahl, Pop Singer Peter Andre, Former BBC Royal Correspondent Jennie Bond, Mrs George Best Alex Best, Pop-tastic DJ Mike Read & Ex-Atomic Kitten singer Kerry McFadden.
See the Official I'm a Celebrity Web Site for their info...
Will Johnny be the new King of the Jungle? This is gonna be FUN... !

---
17th January 2004
The Jah Wobble 'My Life in CD' interview from last March is still available via the BBC 6 Music site. Among the tracks picked are Jim Reeves, Desmond Decker, PiL, Anita Baker & Miles Davis. Note: Originally the link was wrong and took you to another interview, it has now been fixed.
Thanks to Gary Bourke
---
The Invisible Records web site are streaming free Pigface audio & downloads. 'Inset-Suspect: Remix by Chris Haskett' is currently available. Other tracks, plus live video footage, will also be made available. Invisible are presently auctioning 'Damage Manual Packs' on E-Bay, the pack features the 'Double Damage' 2xCD, a Damage Manual Poster, a sticker, and a Damage Manual tour laminate.
MaximumInk.com has a new interview with Pigface, plus this month's 'Modern Drummer' magazine has an article on Martin Atkins.
Thanks to Mike
---
This web site has a video-stream of PiL's infamous appearance on American Bandstand in 1980. http://www.robertlindsley.com/etemplates/index.htm
Thanks to Tim Bucknall
---
'Reggae: The Story Of Jamaican Music' originally broadcast on the BBC in 2002 will be shown on Bravo TV in the USA on February 4th. The shows include an interview with John Lydon, along with rare Don Letts footage from Jamaica in 1978.
Thanks to Karsten
---
Lu Edmonds will appear live at Braithwaite Hall, Croydon on February 7th as support to Abdullah Chhadeh and his band Nara.
Thanks to Karsten
---
Tom Zvoncheck has reportedly joined Rich Robinson's (ex-The Black Crowes) yet unnamed new band.
Thanks to Karsten
---
15th January 2004
The February issue of Mojo featuring the previously mentioned John Lydon interview, is available now. This is part 2 of an interview conducted for last month's PiL special. Amongst other things John speaks about his home life in LA, the new solo album, Sex Pistols, and the film of his book.

Interesting stuff, but not as good as our extensive PART 2 interview! Which you can check out HERE!
---
7th January 2004
John Lydon interview Part 2!
At long last, despite the best efforts of Mojo to steal our thunder, we bring you Part 2 of our John Lydon interview. The original interview was completed in the summer, but has since been updated to bring you the latest developments with John's new record, as well as a lengthy look at PiL (and that's from start to finish, not just the first three albums), and life in general through the eyes of Mr Rotten. The interview is so extensive we were tempted to split it into two, but we've been there before! Believe me, you won't read anything more in depth, anywhere... More soon... Enjoy or die...
Part 1 of the interview manly concentrating on the Sex Pistols 2003 can still be found on the F&F site
---
By chance last week when I was doing the updates I realised that today would see the 4th Anniversary of thefilthandthefury.co.uk. How time flies and all that bullshit, but over the past four years things have changed dramatically. The fanzine is gone (but not forgotten), and now Fodderstompf has came along and pretty much took over! The sites have expanded and improved, but if half of what was planned had actually happened, they'd be very different sites, though in saying that they're not exactly in bad way are they? We're not the types to promise what we can't deliver, so trust me, the next year or so will see big changes, with far more features, exclusive interviews, reviews, news etc etc.
Thanks for the support.
---
This article on Ryuichi Sakamoto at Village Voice.Com, touches on his work for PiL's 'Album'.
Thanks to Urban
---
27th December 2003
BBC Radio 6 finally broadcast the repeated PiL session on Xmas Night. Not exactly the best time for people to get to hear it, though I suppose it was the 25th Anniversary of the Rainbow shows ( I'd be surprised if they even knew that ). As mentioned before, the session was aired as part of Radiohead's Dream Ticket. Tom Yorke picked 'Careering' and 'Poptones' from the 1979 John Peel Session, but forgot 'Chant'. He didn't really say much about the tracks apart from he thought 'Poptones' was "almost better than the original". The full show is still available to listen to via the BBC Radio 6 web site.
---
24th December 2003

Go Home Productions who previously brought us the Pistols v Madonna 'Ray of Gob' Mash Up (amongst many others) have just posted 'PiL's, Thrills and Britneyache' a new mash up of PiL's 'Socialist' versus Britney / Madonna - 'Me Against The Music'!
'Socialist' was always 'Dance' way before its time, and in true Harold Pinter style the track works a treat! Check out Go Home Productions for more info...
Thanks to Tim Bucknall
---
For some unknown reason BBC Radio 6 failed to transmit the repeated PiL session last night as previously advertised on their web site. The session was due to be aired as part of Radiohead's Dream Ticket, it was either a listings mistake or Radiohead had one of their infamous changes of mind...
---
21st December 2003

The new issue (January) of Mojo featuring the previously mentioned article on PiL is available now ! The 9 page feature takes an extensive look at the band's career from 78-83 and includes interviews with Lydon, Wobble & Levene, without doubt it's the best thing written about PiL in years (though it's not exactly had much competition). The article is part of a huge feature on "post-punk", and also includes rare and unseen pix by photographer Dennis Morris, who worked with the band on most of their early artwork. A second part interview with John Lydon (sounds familiar!) discussing his present plans will feature in the February issue... Jon Savage also picked 'Home is Where the Heart is' as part of a post-punk 'best of'.
The 13 December issue of NME also featured an article on Kurt Cobain's favourite 50 albums, where he is said to have picked PiL's 'Flowers of Romance' & the Sex Pistols 'NMTB'.
---
In true "bus" fashion, another press article on PiL has surfaced in a free 'record shop' magazine called 'FACT'. Written by ex Zig Zag editor Kris Needs, who was close to the band throughout their career, the article mostly concentrates on the 'Metal Box' era, but also features lots of other good information, including some great quotes from Primal Scream's Bobby Gillespie. Check it out, if you can find it...
Thanks to PR Paul
---
BBC Radio 6 are repeating a PiL radio session this Tuesday, 23rd December as part of their 'Dream Ticket' series, which in turn, is part of the Janice Long show between 10-12pm. It's still unclear if the session will be the 1979 Peel Session or the 1992 Mark Goodier Live Session. You can listen live via www.bbc.co.uk/radio or on Digital.
Thanks to Tetufumi Otani
---
Virgin / EMI Records are set to release a CD compilation entitled 'Death Disco - Songs From The Dance Floor 1978 - 1984' which will feature PiL's 'Death Disco' along with 'Haile Unlikely by the Electric Dread' from the 1979 Steel Leg EP, featuring Keith and Wobble, along with Don Letts (click here for more info). This will be the first time anything from Steel Leg has ever received a CD release! Apparently the CD is due for release February 23rd 2004.
Thanks to Eliot Wien
---
Jah Wobble's 'Elevator Music' will be given a full CD release in late January 2004. The album was previously available as an Emusic.Com exclusive download. Three new tracks have now been added, with one removed. Check out 30 Hertz for full info.
Thanks to30 Hertz
---
Keith Levene's BBC Radio 6 interview from Friday, Dec 12th apparently went well. He was asked to pick some records which included The Jam and some Trojan Reggae. And on the subject of Trojan Records... their official web site now includes a link directly to Keith's recent Fodderstompf interview!
Incidentally, has anyone got a tape of Keith's Radio 6 interview?
Thanks to Teresa O'Hara
---
The Sex Pistols 'The Filth and the Fury' will receive it's terrestrial UK premiere tomorrow, Monday, 22nd December, 12.15am Channel 4. I've said it before, and I'll say it again, if you haven't saw this film you really fucking need to...