11th December 2003
Keith Levene will be on BBC Radio 6 at 3pm (UK time) for a half hour interview tomorrow Friday, Dec. 12th. You can listen live via www.bbc.co.uk/radio or on Digital.
Thanks to Teresa O'Hara
---
4th December 2003
As predicted, John Lydon appeared on last night's (Wednesday, 3rd) episode of Bronx Bunny, on E4. The show is a spoof 'Sesame Street' for Adults hosted by two foul mouthed (and I mean foul mouthed!) puppets, Bronx Bunny & Teddy T. Given that it's a cable show the programme should be repeated at some stage in the near future, though god knows when... If you missed it John was on good form and the perfect foil for the puppets, some of the comments were hilarious. When asked if he jerked off and wanted to watch Teddy T in a porn film, John replied "Yeah, I like watching hairy things"!
---
29th November 2003
New Fodderstompf Keith Levene interview added!
After years of careful planning, and the odd set back, Keith, with his MurderGlobal collective are about to see their plans finally start to take fruition. Among the most interesting of his forthcoming projects is a new collaboration with Martin Atkins, his one time public enemy number one in Public Image? Surely a complete turnaround? Well maybe not... That's not to mention the forthcoming MurderGlobal album, a change of instrument, dabbling with film, his work with Plakka, and his thoughts on a certain Public Image Limited...
---
Look out for John Lydon on the new TV show Bronx Bunny, shown on E4 (UK, Cable TV). The show is currently being shown a few times a week on E4, around 11.05pm, however, we have no definite transmission date for John's interview (it could even be after the new year). Bronx Bunny is a mock Adult Education show from the creators of Zig & Zag.
---


Flip Skateboards have just released the new DVD 'Really Sorry', which also features the original 'Sorry' introduced by John Lydon, and released on video last year.
---
Jeannette Lee made a rare media appearance on a Radio 1, 'One World' special about Rough Trade Records, last Thursday 27th November. Jeannette, along with Rough Trade founder Geoff Travis, narrated the two hour special, telling the story of the company, and playing a few of their favourite records. Although discussing the development of Rough Trade through punk, no mention was made of Jeannette's involvement with PiL. Jeannette is now a co-director of Rough Trade.
---
24th November 2003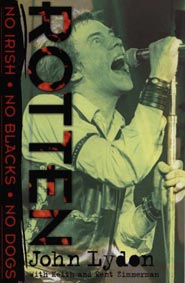 As previously mentioned, Plexus Publishing have just re-issued John Lydon's autobiography 'Rotten, No Irish, No Blacks, No Dogs' in the UK on paperback, £12.99. The layout is based on the US version and now features a totally new cover, which John didn't know anything about... I shouldn't even have to recommend the book by now, but if you've not got it, you know you need to get it...
John is also continuing to work with director Peneople Spheeris on the film of the book.
---
19th November 2003
Ok, Part 2 of the John Lydon interview what's happening? Well, it's no big deal, the interview is completed and ready for publication, and has been for some time, HOWEVER, we are holding back publication for a little longer due to the fact John was interviewed for Mojo Magazine regarding PiL and his new solo material. Sound familiar? In full agreement with Mr Lydon we weren't going to make it easy for Mojo, it's not hard to see where they got their idea in the first place is it? Anyway rest assured, part 2 will be posted after Mojo have published their interview, which is pencilled in for the January issue.
---
On the subject of Mojo, the December issue (pity about the front cover... !!) features an excellent 2 page article on the Sex Pistols US tour, by Satellite author Paul Burgess, along with pix from Ray Morrissey.

SPIN Magazine in the US also features an article on the Pistols Atlantic City show.

A John Lydon interview, on the previously mentioned Rhino Records punk set, not featuring the Sex Pistols, can be found at CNN.Com (a sister company of Rhino...)
Thanks to Jeff
---
An interesting new review of Copkiller appears at NY Press.Com
Thanks to Urban
---
Greg Whitfield who previously brought us the Don Letts interview & 'Bass Cultural Vibrations: Visionaries, Outlaws, Mystics and Chanters', has just published a very interesting interview with Slits bass player Tessa Pollitt at the on-line 3 AM Magazine. Although, obviously, centring on Tessa and the Slits the interview features some good references for PiL, dub & punk fans not to be missed...
---
The following review of Jah Wobble's 'English Roots Music' was recently published in The Guardian.
Jah Wobble and the Invaders Of the Heart: English Roots Music
4 stars
(30 Hertz records)
Robin Denselow
Thursday October 30 2003 The Guardian
It was surely only a matter of time before Jah Wobble put his mark on the English folk scene. For the past quarter-century he has been one of music's great eccentrics, and since his early days with Public Image Ltd, he has matched his bass work against anything from industrial dub to eastern styles. On English Roots Music, a whole batch of sturdy, well-known songs, including Blacksmith or Byker Hill, have been given a distinctive Wobble once-over. The current English revival is a largely acoustic affair, but Wobble takes a broader view, updating the 1960s folk-rock of Fairport Convention in much the same way that Jim Moray has done with his techno-folk. Wobble has a fine traditional singer in Liz Carter, whose cool, clear vocals are bolstered or dissected by his stirring, clonking basslines and dub effects. Add a wash of guitars from Chris Cookson and the pipes and bagpipes of Jean-Pierre Rasle, and the results veer from the thoughtful to the rough, ready and rousing.
Thanks to Patrick MacArdle at the Jah Wobble Discussion List, sign up now!
---
A quick reminder that Keith Levene plays London, The Umpire, this Saurday, 22nd November with Plakka (see below for full details).

The Pigface United II Tour is continuing to tear through the USA. The tour merchandise includes 2 new Pigface DVDs: 'United I Tour' and '90-96' featuring footage from Glitch and Son of a Glitch...
---
11th November 2003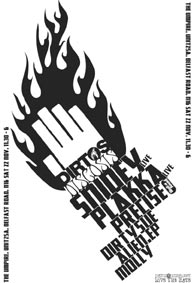 Keith Levene will be making a rare live appearance with Plakka, next Saturday, 22nd November at The Umpire, London. Keith's last gig with Plakka went well and he will continue to help out on bass duties, he is also set to produce their debut, vinyl only, record in the near future...
Keith is currently concentrating on playing bass, a move which he says has saw him rethink his whole musical approach... If you get the chance to go along this could be a very interesting night. Again, MUCH more info soon...
DIRTOSDISCOSIS - Saturday 22nd November - All Night Musical Mayhem featuring

SNIDEY (Live) "Warm Analogue funk bursts over a twitching backbone of hiphop beats and scratches" (AllCity)

PLAKKA (Live) "..Space age B-Movie electronics with a sonic death rock dub.." (N16)

Plus live DJ performance from
Precise, the scratchmeister and one half of Wall of Sound's Vinyl Dialect - the new breed of British Hip Hop.

The other DJ's DirtySue, Alien.EP and Molly playing everything and anything so long as it sounds good.

Plus...
**The Meat Raffle** Your chance to go home the proud owner of a tray of top quality meat based products...

DIRTOS DISCOSIS * SAT 22ND NOVEMBER * THE UMPIRE, UNIT25A, BELFAST ROAD * N16 * 11.30-6am *
(coming from Stoke Newington take the first right, Belfast Rd, after Stoke Newington train station then left into the small industrial estate)
---
3rd November 2003
Murderglobal are set to release their 'Killer in the Crowd' EP via Martin Atkins Underground Inc next February!! 'Killer in the Crowd' has never received anything other than a limited private release on the Murderglobal website so this will enable the record to get the release it deserves... Murderglobal are currently continuing work on their debut album 'The Perfect Crime', which is also set for a release via Underground / Invisible sometime next year...
MUCH more info soon, this is only the beginning...
---
Jah Wobble & The Invaders of the Heart 'English Roots Music' available now via 30 Hertz and 'All Good Stockists' (HZCD21).
Wobble was guest at the MusicWorks convention in Glasgow, Scotland on Thursday, 30th October, where he sat on a panel to discuss piracy and bootlegging within the music industry... Reports that he ran screaming from the building are still unconfirmed... no actualy they're 100% true!
Check out the first ever Jah Wobble fan site at www.geocities.com/jahwobbleinfo. Still under construction but showing lots of early promise...
---
The Pigface United II Tour kicks off this Thursday November 6th at West Dundee, IL Clearwater Theater. See the tour's official web site for full line up info and dates.
---
PiL drummer Bruce Smith was interviewed back in 2000 for www.generalthinking.com. As well as producing and composing for various projects, Smith has most recently been playing and recording with Sade's backing band Sweetback, appearing on their first album in 1996, and their follow up set for release sometime in the near future.
Allan Dias also seems to have resurfaced, more info soon... !
www.generalthinking.com
My Label, Role or Title: Composer | Producer | Musician

My Work: I compose and produce (and sometimes perform) music for: recording artists, films, documentaries, commercials .... anything really where music can play a part.

About Me: I left school (in Britain) to make a record when I was 16. I guess I've been professional, as a musician, since I was 17. In 1978 (when I was 18) I was in a group called "The Pop Group". Nick Cave once referred to our first album as the best music of the 20th Century - even beating out Stravinsky!. Later on, from around 1985 until around 1989 I was the drummer (and co-wrote a lot of the music) for Public Image Ltd. We did a lot of touring, and a lot of partying. (It's fair to say I did a lot of drugs.) Then, in 1990 I started mostly composing and producing -- which is what I do now. I live with Wendy and our son Finnegan in SoHo, New York. I like to cook.

My Passions: Music (naturally), cooking, cuban cigars (see photo),latin culture,great composition in art,the modern hero,the female form, point-collar shirts and Lime & Basil Cologne from Jo Malone in London.

Thanks to Karsten
---
Lu Edmonds has just completed 9 dates in Australia with Billy Blagg & The Blokes (12nd - 24th September).
Thanks to Karsten
---
The following is an excerpt from an interview with Warren Cann of Ultravox, where he talks about his connection with Keith Levene, and Keith's apparent attempts to join Ultravox, pre-Clash...
EN: Ultravox worked with some prestigious producers: Brian Eno, Steve Lillywhite, Connie Plank, George Martin. Can you compare the experience of working with Brian Eno and Steve Lillywhite?

Warren: I lived in a pretty beat-up place in North London, just around the corner from the Friern Barnet Mental Hospital. We didn't have a front door; the landlord had kicked it in one day in his quest to retrieve rent from one of my flatmates. Occasionally, some of the patients would stroll in during one of their walkies. We were an assorted bunch but I was pretty much the hard-core muso of the house. Except for the time I shared with a nutter named Keith Levene. He was a guitarist and had heard some of our rehearsal tapes. He kept pestering me to join the band, "C'mon! I'm a much better guitarist than your guy!" I'd say, "Listen, Keith all you ever listen to is all that fucking widdly-widdly jazz-rock Frank Zappa/Todd Rundgren "Utopia" crap. Forget It!" (By the way, for those who actually care about such things, I liked "The Nazz," just nothing after.) Keith went on to join a band. Months later, I was walking down Islington one night on my way to a gig at the "Screen on The Green." Just up from the cinema, I saw Keith and a few guys I recognised lurking about in a chip shop doorway." I said hello but was totally blanked as I walked by. "Oh it's like that. Ok" Keith had joined the Clash as second guitarist. But what a gig that night. The bill was: "The Sex Pistols," "The Clash," and "The Buzzcocks."
Thanks to Karsten
---
9th October 2003
There are NO plans to release the Blacksmoke BBC session featuring John Lydon either commercially or via MP3 download. It turns out Mr Rotten was as surprised as we were to hear it had been broadcast! However, we did receive a message from The Blacksmoke Organisation which states:
" We have no plans to post the session up, it was really just a teaser for things to come... but you can download a few other MP3 tracks right now, and we'll be sorting it out as a DIY EP in due course... (download MP3 and artwork and make your own EP).
" The vocals were recorded some time ago, and John did a magnificent job... unfortunately the project in question was put on hold for some time due to recording commitments... Jimmy loaded up the session again a few months ago whilst working on new material for blacksmoke, and realised it would be perfect for the BBC session. There are no plans to release it commercially."
Thanks to TTFN
---

A new 'mash-up' of Time Zone - 'World Destruction' mixed by The Herbaliser appears on 'Herbal Blend', volume 3 of the Ninja Tunes 'Solid Steel Presents' mix album series (NINJA TUNE ZEN CD83). The mix splices together 'World Destruction' with 'The Missing Suitcase' by The Herbaliser. It's quite an overhaul with basically only the vocals remaining from the original, and a less agressive, looser funky feel, but it works quite well and is worth a listen.
Ninja also plan to release an unmixed vinyl version of the album in the near future.
---
2nd October 2003 (update)
Last week John Lydon guested on a BBC Radio 1 session for Blacksmoke (catching everyone completely by surprise!). The session was broadcast midnight 22/23 September as part of Mary Ann Hobbs 'Breezeblock', with John appearing on the first of two tracks 'Blacksmoke Rising' ('USA USA' being the other track broadcast).
Blacksmoke are the new "Art Collective" (band & label) from Jimmy Cauty of KLF fame, and are proving to be as subversive and media shy as their predecessors! Their official www.blacksmoke.org website has stated the session will be made available on-line, however, we don't know when (be warned the site seems very erratic!)... The website doesn't give any details of their work with Lydon, although it does say on their forthcoming MP3 Jukebox that it will include a track with John entitled 'Sailing By'.
The music is a real storming mix of industrial, dance, rock & samples. Very interesting stuff. There will soon be a 5 track EP available but in the meantime three MP3's are available to download, though none including John... And just in case you wonder, the track 'FFF' isn't a PiL cover (it stands for 'Fuck the Fucking Fuckers'!).
You'll find a brief interview about the Radio 1 session on the Breezeblock site where Blacksmoke, when asked about how they put the session together state, "It's pure, undiluted Blacksmoke. No commercial concern, no creative limit. This session was produced to the architectural design of James Cauty, with the creative involvement of James Fogarty, Matt Bowyer, Alfie Bear and special guest appearances, by supporters of the cause."
MORE info soon... !
Thanks to Tim Bucknall & Karsten Roekens
---
This month's issue of Record Collector includes a full page picture of PiL on 'The Old Grey Whistle Test', as part of a feature on the BBC show. The article also includes a funny quote from Annie Nightingale about PiL's appearance on the show.
---
A new interview with Ken Lockie from August this year can be found at: www.suite101.com/article.cfm/11982/102928
Thanks to Karsten Roekens
---
24th September 2003
A new US punk photo book, 'Legends of Punk' by photographer Rikki Ercoli will feature shots of PiL, Jah Wobble & Brian Brain live shows. The 96 page Hardback book will also include the likes of Killing Joke, Gang of Four & The Ramones, as well as Cook & Jones, and Sid Vicious. 'Legends of Punk - Photos from the Vault' is published by Manic D Press and according to Amazon is due for release sometime this month.
Thanks to Dino Everett
---
The Rapture, who we have previously mentioned with their live cover of 'Memories', are at it again. The title track 'Echoes' on their new album steals the vocal melody from 'Careering', completely. While I'm glad bands like The Rapture are giving PiL some exposure, you have to say that trying to structure a PiL sound is about the last PiL-like thing you could ever do. The PiL sound evolved naturally, to try copy that really is just missing the point...
---
21st September 2003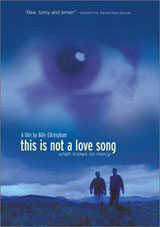 A new independent British film has just been released under the title This is Not a Love Song. From what we can tell the PiL track doesn't actually appear in the movie, and we're not exactly sure what the connection is. However, the film seems interesting for a variety of reasons, none more so than it's apparently the first full-length film to be premiered simultaneously on-line and in the cinema.

Directed by Billie Eltringham (The Darkest Light) and written by The Full Monty creator Simon Beaufoy , This is Not a Love Song stars Kenneth Glenaan (Heaton) & Michael Colgan (Spike) as two desperate loner's on the run. Likened to a cross between Trainspotting, The Blair Witch and Deliverance, the film has been picking up favourable reviews throughout the media.

This is Not a Love Song is available for streaming via the official web site for a small fee, though you will need to be running Windows and have a Credit or Debit Card. Demand is presently high and you might have to pre-book a viewing time. The film is also getting a limited cinema release in the UK, and can be purchased outside the UK on DVD via Amazon.Com etc, a UK DVD release will follow next February.

Reviews / Further Info
The Guardian
DVD Talk
Yahoo Movies
---
Jah Wobble & The Invaders of the Heart have a new album entitled 'English Roots Music' set for release October 6th via 30 Hertz and 'All Good Stockists' (HZCD21). The album is a 'Wobble update' of many traditional English Folk songs but as Patrick said over at the Jah Wobble Discussion List I wouldn't imagine this record will inspire too much Morris Dancing on the Village Green!
CANNILY CANNILY / BANKS OF THE SWEET PRIMROSE / UNQUITE GRAVE / BLACKSMITH / BLACKSMITH DUB / STRANGE DUET / THEY CAME WITH A SWAGGER / PRESS GANGED / SOVAY / BYKERHILL / TRANCE OF THE WILLOW / ENGLISH REPRISE
Thanks to 30 Hertz & Patrick MacArdle at the Jah Wobble Discussion List, sign up now!
---
Wobble also has a new album available for download exclusively at Emusic.Com. 'Elevator Music - Volume 1' (aka 'Vertical Transportation Music') which will later be released via 30 Hertz in November of this year.

Tracklisting & Credits:
ELEVATOR MUSIC-VOLUME 1
PRODUCED BY JAH WOBBLE FOR 30 HERTZ
GUEST MUSICIANS: BJ COLE, PEDAL STEEL, TRACK 1, & TRACK 9
CLIVE BELL, FLUTES & PIPES TRACK 1
ZI-LAN LIAO, KU-CHENG TRACK 2
JEAN-PIERRE RASLE, PIPES TRACK 2 & 6
HARRY BECKET, TRUMPET TRACK 3
CHRIS COOKSON GUITARS, TRACKS 2, 3, 4
JAH WOBBLE, BASS, PERCUSSION, KEYBOARDS, GUITAR & PROGRAMMING ALL TRACKS
PAUL MADDEN (AT INTIMATE STUDIOS) ENGINEER TRACKS 1,2 & 9
MARK LUSARDI (AT MARK ANGELO STUDIOS) ENGINEER TRACKS 1,3,4,5,6
JAH WOBBLE ENGINEER TRACKS, 7,8,
ALL TRACKS COMPOSED BY JAH WOBBLE
TRACKS
ELEVATOR MUSIC 1
ELEVATOR MUSIC 2
ELEVATOR MUSIC 3
ELEVATOR MUSIC 4
ELEVATOR MUSIC 5
ELEVATOR MUSIC 6
ELEVATOR MUSIC 7
ELEVATOR MUSIC 8
ELEVATOR MUSIC 9
Thanks to 30 Hertz & Patrick MacArdle at the Jah Wobble Discussion List, sign up now!
---
In yet more Wobble related releases! The collaboration Wobble recorded last year with Uzbek singer Yulduz Usmanova and Ernest Ranglin called 'Bilmadin' looks finally like getting a release via 30 Hertz. The album was originally recorded for Sony but the plan is now for them to license it to 30 Hertz.
---
Pigface have announced preliminary details for the United II Tour, set to run November 7th - December, USA. The band's will include Pigface, Dope, Professional Murder Music, Rachel Stamp & Diablo Syndrome. More info at the tour's official web site. The Pigface line up (so far) will be Martin Atkins, Seibold (Hate Dept.), En Esch (Slick Idiot, ex-KMFDM), JS Clayden (Pitchshifter). See the Pigface site for more info...

Invisible Records have extended their 5 for $20 cd offer to now also include 10 for $35, 15 for $50, 20 for $65 with free shirt, 25 for $80, 30 for $90 and 40 for $100 with a free Ui DJ Bag. Remember the Pigface remix CD 'Headf...' is now also available...
---
After much thought I've decided to get rid of the 'message bored'. It's far more hassle than it's worth, and I just don't have the time or opportunity to monitor it properly. Unfortunately a handful of "Anarchists" (sorry I meant "Arseholes") hiding behind made up names have put the final nail in the coffin but lets face it it wasn't exactly the busiest board in the world was it? There are similar boards at GSTSP & Lydon.Com and I'm sure they will welcome genuine fans, the other "class warriors" are more than welcome to post somewhere more on their level, perhaps a Billy Bragg or Plastic Bertrand board for instance...
In all honesty I've never really been a fan of the message boards anyway, they were only there for other fans to use, should they want to. However, some of the cowardly threats and slurs against myself and various PiL members just had to stop. I KNOW for a fact that John, Keith, Wobble or Martin (etc) don't need anyone to stick up for them, they're big boys and so am I, but enough is enough, frankly I've got better things to do... I did warn you the fakes wouldn't survive...