31st January 2006 (updated)
Jah Wobble
will be appearing on
Steve Jones'
LA radio show on
Indie 103.1 FM
, today 12-2pm (LA time) (8-10pm GMT).
Indie 103.1
is available to listen live on-line via their
web site
, and also through iTunes Radio.
Wobble's tour has been going down a storm, check out the
Jah Wobble Discussion List
for more info on the shows. However, unfortunately his instore appearance at
Amoeba Records
has been
cancelled
due to flight arrival time.
Martin Atkins showed up at Wobble's Chicago show, and lets just say that Wobble 'had it out with him' over Underground Inc's PiL DVD bootleg set. Atkins has now described selling the bootleg as a "lapse of judgment" and has removed it from his site.
As you probably noticed Fodderstompf refused to even mention the DVD. It was utter trash - and nothing more than a cash in - no better than your average eBay collectors disc. Lets never speak of it again… Here's Atkins apology in full as posted by Underground Inc:
From Martin: A Lapse of Judgment..
I met Jah Wobble last night at his show here in Chicago. Things didn't end very well between him and I with The Damage Manual, so I wanted to show my face and say hello to the guy I was in PiL with 27 years ago! It was good to see him, but he was upset about the PiL DVD bootleg that I put up on the site - I explained why I had done it - that someone was making money on it - why not me too? But, standing in front of him, I realized several things: that, basically, two wrongs don't make a right, that it makes me look like I am manufacturing the thing (I bought some from a distributor) and, worst of all, it takes the piss out of my ex-bandmates whose performances are also on the DVD.
I apologized and told him I would remove it from the site today. I think that this episode defines the phrase "lapse of judgment" perfectly and I humbly apologize to all concerned.
---
It well worth checking out
JohnLydon.Com
today
,
January 31st, 2006
…
---
A couple of vaguely interesting interviews for you to check out. Firstly, a Q&A with Moby at New York Magazine where he talks about John and PiL, "My two heroes growing up were Ian Curtis, the singer of Joy Division, and John Lydon, from the Sex Pistols and Public Image. I liked the Sex Pistols, but Public Image spoke to me more."
Then, an interview with Afrika Bambaataa at the Hawaii Star where they talk about 'World Destruction' and how it doesn't get the full credit it deserves. The article states: Aerosmith and Run DMC get all the credit for melding rock and rap with 1986's "Walk This Way," but Bambaataa had already performed that kind of collaboration with punk rocker John Lydon on "World Destruction" in 1984. "They never set the record straight," Bambaataa said. "But the first one was definitely the John Lydon and Afrika Bambaataa record."
---
17th January 2006
Jah Wobble North American Tour January-February 2006
30 Hertz have now confirmed 'Jah Wobble's English Roots Band' 9 date tour of the USA & Canada, due to start next week. 'Mu' will also get its US release this month. See 30 Hertz for full info…
25th January - West Toronto, Horseshoe Tavern, Canada
26th January - New York, Avalon Nightclub, USA
27th January - Cambridge, Massachusetts, Middle East Underground, USA
28th January - Chicago, Abbey Pub, USA
29th January - Minneapolis, 7th Street Entry, USA
31st January - Los Angeles, Troubadour, USA
2nd February - San Francisco, Bottom of the Hill, USA
3rd February - Seattle, El Corazon, USA
4th February - Vancouver, Plaza Club, Canada
The band line up will be:
Mark Sanders - drum
Liz Carter - Vocal
Jean-Pierre Ralse-pipes
Chris Cookson - Guitar
Clea Llewellyn - vocal and
Of course
Jah Wobble - Bass
Mick Routledge - sound engineer
Wobble and the band will be performing at two instore signings for Amoeba Records, the first at Amoeba, Hollywood on 30th January, followed by Amoeba, San Francisco on 1st February. The band will also be performing live for KEXP 90.3 FM in Seattle on 3rd February, 12pm. Check out the KEXP web site for full broadcast info.
Thanks to 30 Hertz & Patrick MacArdle at the Jah Wobble Discussion List, sign up now!
---
John Lydon appears on the (UK) ITV, Orange Playlist this Wednesday (Jan 18th, 11.30pm), where he will be picking five of his favourite songs. Expect to be surprised… The show will also be repeated on ITV2, and VH1 in the near future.
---
See the link below for an interesting article by Tom Vague (of 'Vague Magazine' notoriety) - written as part of a huge feature on the "Pop History" of Notting Hill for the West London based HISTORY talk web site. Although loosely centering on Virgin & Island Records, the article takes a knowledgeable look at the Reggae and Punk crossovers of the late seventies and early eighties (as well as the music scene in general) and includes some unique information that you may not have known. Such as details of a Keith Hudson track called 'Pistol Boy' written in tribute to Sid, and Island chief Chris Blackwell's attempts to court favour with John Lydon and PiL. Excellent stuff, well worth checking out.
http://www.historytalk.org/Tom%20Vague%20Pop%20History/Chp%207.pdf (PDF Link)
Thanks to Greg Whitfield
---
30th December 2005
To tie in with the DVD release of 'John Lydon's Megabugs' John was been doing various UK press & TV, see JohnLydon.Com for full info. Also see the site for the chance to win a signed copy…
In a webchat with The Sun on-line last week, when asked about his new solo album, John commented: "The Rabbit Song is part of a new solo album I am working on at the moment. We just haven't found a record label for it yet. I offered it to Virgin, but they showed no interest. They showed about as much interest in my new album as they did in putting out this current one [Best of British…]. You can hardly call it over-promoted!"
He also quashed speculation that has been growing throughout the year about a possible PiL reunion: "Me and Jah Wobble went for a great curry recently. He's a good mate and will be for life. But we're not getting back together."
Read the whole webchat at The Sun on-line web site…
---
---
Inspired by SONY BMG's recent covert CD spyware controversy, the following article from the Washington University Student Web site features some great rock marketing fuck ups, and features PiL's notorious appearance on American Bandstand. The article is well worth checking out – if like me – you knew nothing of Sony's further attempts to spy on us…"Spies everywhere, they put the poison in the air?…"
---
Martin Atkins has announced that after 17 years of running Invisible Records he has finally handed over the day to day running of the business to a General Manager, due to time restrictions (this will presumably give him more time to think of more PiL bootlegs/cash-in's? LOL!). A new Pigface album is apparently nearing completion too.
Thanks to Karsten
---
4th December 2005

'John Lydon's Megabugs' – John's 2004 insect series for the Discovery Channel – is now available on DVD. All ten episodes on 2 discs, in a superb animated slipcase with artwork of John morphing into a Praying Mantis!
See JohnLydon.Com for full info…
John Lydon's Megabugs
Green Umbrella Productions
GUDVD 5479
Running Time 230 minutes (approx)
Multi-Region DVD (PAL)
Released 28th November 2005
---
Jah Wobble is playing a one-off gig at the legendary London, 100 Club on 28th December. He is also set to tour North America early next year. More info to follow… In the meantime keep an eye out on 30 Hertz, and sign up for the Jah Wobble Discussion List…
---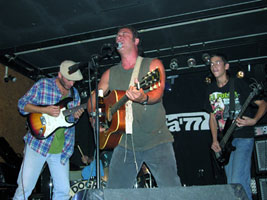 Richard Dudanski's band El Doghouse have released their debut album 'In Heat'.
El Doghouse, who originally formed for the Joe Strummer Tribute gigs a few years back, feature Richard on drums, with Tom Lardner on lead vocals and rhythm guitar, and are joined for live dates by Richard's 15 year old son Maki on bass (school commitments allowing!). As the band's web site says, "If labels must be provided, their unique sound may best be described as Garage-Folk-Punk."
The 12 track album, released via their own Andalucia Records back on 13th October, includes 11 new songs, along with a cover of the Stooges 'I Wanna Be Your Dog'. Interestingly, the band describe the track 'Seed of Narcissus' as a musical "hats off" to John Lydon, "the Sex Pistols influence is pretty obvious…" El Doghouse have began to gig around Spain, and recently appeared on Spanish TV & radio.
Full info about the band can be found at the excellent El Doghouse web site; which features a biography, interviews, pictures and news; along with MP3 downloads, videos, and an interactive El Doghouse jukebox!
Thanks to Karsten & Richard Nother
---

Apparently Keith Levene has just completed some recordings with Mark Stewart (under the guidance of Adrian Sherwood) which will appear on a new Mark Stewart and The Mafia album next year. Keith and Mark previously collaborated back in 1981 with the New Age Steppers.
'Have Mic, Will Travel' the debut album by Carpetface was finally released on 24th November. As we have previously mentioned Keith Levene makes a guest appearance on the track 'Realeyesation' playing bass. The track was recorded back in 2003. The self-funded double CD is available via New Bias Industries (NBI005), see the New Bias web site for details on how to get the album…
Thanks to Karsten

---
Lu Edmonds is currently producing the debut solo album of ex-King Prawn bassist Babar Luck, which is due out in early 2006, via Rebel Music Records. As well as producing Lu has been playing Saz on the album, and also played live with Babar at this year's WOMEX in Gateshead on 28th October (Lu also took part in a conference the day before in Newcastle).
Babar's music has been described as a "new take on English Folk Music" fusing together reggae, folk, hip hop and poetry with his Asian roots. He has recently been supporting Siberian punk/folk group Yat-Kha, who Lu has been heavily involved with for some time. See Babar Luck's web site for more info…
Thanks to Karsten
---

It has been confirmed that the previously mentioned 'Tomorrow Show' DVD will be released early next year. 'The Tomorrow Show with Tom Synder - Punk & New Wave' will be released in the USA by The Shout Factory, on January 24th 2006, it will now be a 2 disc set rather than 3. Full info on the release can be found on TVShowsonDVD.Com.
The DVD will of course feature John Lydon and Keith Levene's infamous "I only know what I don't like…" interview with Tom from June 1980. More info on this notorious (and hilarious) interview can be found in our 1980 Chronology…
---

I also keep forgetting to mention that the recently released 'Punk: Attitude' film by Don Letts includes a very, very brief, previously unseen, clip of PiL live at the London, Rainbow Theatre Xmas 1978. The film and DVD also feature various PiL music – most notably 'Annalisa' which is used on the DVD menu titles – however it does not include interviews with anyone from PiL. The 2 DVD set was released back in October by Feemantle (FHED 1856).
Remember to check out the recent JohnLydon.Com interview with John to hear his thoughts on the 'Punk: Attitude' film…
---
The music industry contact guide Music Phone Book features an interview with Martin Atkins we missed from last year where he talks about running a record label, and how the industry has changed since he began his career with PiL. Click here.
The same website also has an interesting interview with ex-PiL tour manager Larry White (1980 & 1983), where he talks in detail about the band's appearance on American Bandstand and reveals how, despite being heavily edited, it was set to be banned from ever being shown… Click here.
Thanks to Karsten
---
You can find an archive review of PiL's appearance at the New York, Roseland Ballroom on September 26 1982, taken from the Village Voice, at critic Robert Christgau's web site.
It's also worth checking out our Site Updates page to see a variety of recent additions, including some great archive interviews, amongst many, many other things… Yes, Karsten is back! Let the updates commence… !

---
27th October 2005
JohnLydon.Com has just added another new interview with John Lydon! "What makes Britain Great?" This time John talks about his new TV series, the state of the nation, the state of our TV & media, and the "great" British public! Charlie are you listening?
Rotten & Reynebeau: "What Makes Britain Great", the 5 part series starts tomorrow, Friday 28th October, 20:45 on Canvas, Belgian TV. See JohnLydon.Com for full info.
---
Jah Wobble has recorded a live session for the Andy Kershaw Show on BBC Radio3 this Sunday, 30th October, 22:15-0:00 GMT. Wobble and the boys will be playing tracks from 'Mu'. So if you're still swaying over getting a copy, tune in and get convinced… As normal with BBC Radio you can also check out the show live on the net, or later through their archive. See the show's web site for more info…
Thanks to 30 Hertz & Patrick MacArdle at the Jah Wobble Discussion List, sign up now!
---
14th October 2005
JohnLydon.Com has just added a new interview with John Lydon! See its 'Best of British £1 Notes' mini-site to get all the latest Rabbit from the man himself on the compilation. Plus updates on his work-in-progress 2nd solo album and his plans to tour "in a PiL way"! And of course, much more… !
---
The 'Best of British £1 Notes' mini-site also features a whole host of recent press interviews and reviews from the album. Some of which are scandalously nasty and inaccurate; they really have to be seen to appreciate their hatred and jealousy of Mr Lydon… However, a largely favourable review of the album in the NME also featured the following "Why I Love PiL" quotes from Alan McGhee, and Luke Smith of new band Clor.
WHY I LOVE PiL - NME, 28th September 2005
Luke Smith, Clor
"When I was pretty young, I heard 'Rise' on TV, but it's the earlier PiL stuff I love. It's Jah Wobble's bass that does it for me, because I used to go to reggae festivals when I was growing up around Hackney they always had these big soundsystems. You can hear the reggae/dub influence really well on 'Metal Box'. I always try and get our bass player to turn it up to get the vibe going. It's not instant music but once you get it, you find yourself hooked."
Alan McGhee
"Lydon's finest ever moment wasn't the first four Pistols singles - it was PiL's 'Metal Box'. It's still ahead of its time today. Lydon, Levene and Wobble are all amazing musicians and to be this great after the Pistols was a miracle. Lydon was a martyr: he is in exile in LA to this day because he told the truth. He's England's national treasure."
---
Steve Via includes PiL's 'Ease' & 'Home' on a new compilation CD of some of his guest work, entitled 'Archives Volume 4: Various Artists', and released by Favored Nations in the US. The CD Booklet also features Steve's commentary on the track's.
Thanks to Shawn
---
There are reports that John and Keith's infamous appearance on the Tom Synder 'Tomorrow Show' in 1980 will be getting a DVD release as part of 3 disc box set of the show. The collection is due for release in January next year by The Shout Factory. More info as we get it…
---
This is a bit of an obscure one, but news is news! This recent link to the Pasadena City Courier features a new article on PiL's first album 'First Issue', plus a potted history of the band.
---
9th October 2005
Sick of the half-hearted journalistic tripe or bile? Read some proper reviews!
The Best of British £1 Notes CD & The Best of British £1 Notes DVD reviews added!
---
3rd October 2005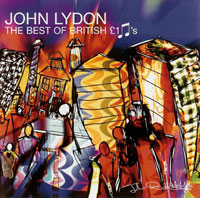 John Lydon 'The Best of British £1 Notes' out now!
October 3rd sees the release of John Lydon 'The Best of British £1 Notes', a unique new singles' compilation covering John's whole career from the Sex Pistols, through PiL, to his solo records and collaborations, and ending with a brand new track; 'The Rabbit Song'.
'The Best of British £1 Notes' is released as a standard single CD, and a limited edition 2 CD special edition featuring a bonus disc of 12" mixes and album tracks specially picked by John.
There is also an additional DVD release featuring a collection of promo videos, along with some great bonus material such as Sex Pistols live footage, and unreleased PiL studio mixes from 'Metal Box'!.
For at least the time being the compilations are only being released in the UK and Europe by Virgin / EMI Records, however, I'm sure worldwide John Lydon fans are so resourceful and intelligent that they will figure out how to find a copy. It's not exactly a jungle is it…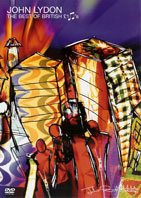 The stunning artwork for all editions was created by John especially for the compilation. Look carefully. It certainly isn't a case of the emperor's new clothes…
'The Rabbit Song' is taken from John's work-in-progress second solo album. He's described it as a way of encompassing his career so far. He's 50 next year but promises the best is yet to come. Going by what's on offer there is no doubt John Lydon can still "have it".
There have been Sex Pistols compilations, and there have been PiL compilations – and very good they were too – but there's never been anything quite like this…
See the links above to JohnLydon.Com for full tracklistings, and release info etc.
---
31st September 2005
Check out our review of Wobble's 'Mu' album. You'll also find a selection of press interviews for the album over at 30 Hertz, plus a personal and revealing interview with the man himself at The Times On-Line.
---

We've also added a review of Pete Jones'Neurotechnic' EP. The 4 track CD is available to order via Pete's own JABBERJAB web site, or on-line at CD Baby.
Click here for a full review…
---
9th September 2005

Jah Wobble's keenly awaited new CD 'Mu' is released this Monday, September 12th, via Trojan Records, and is already available to order via 30 Hertz. If Wobble thinks it's some of his best work, you best sit up and take notice, or he'll be round your house with a bottle of ketchup!
Jah Wobble - Mu
Trojan Records, TJZCD290
Viking Funeral
Universal Dub
Samsara
Kojak Dub
Mu
Buddha Of Compassion
New Mexico Dub
Love Comes/Loves Goes
Softwear
Into The Light
The album is already picking up rave reviews, including 4 star reviews in Mojo and Uncut. Today's issue of The Independent newspaper also features an in-depth interview with Wobble, where as well as talking about the new album he scorches the recent rumours of a PiL reunion! Click here to read the full interview.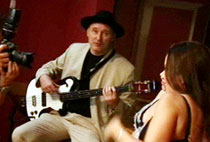 The official 'Mu' web page has now been updated to include the new (highly entertaining!) video for 'Samsara', featuring Wobble and Mark, and co-directed by Wobble himself. The video is available to view or download in a number of formats. Wobble's own 30 Hertz web site also features the video, in both Ketchup and non Ketchup variations. You'll soon get the idea! Bring on the dancing girls!
Although he is not touring to promote the album Wobble has 2 shows lined up in Ireland next week:
14th Sept - Cork, An Cruiscin Lan
15th Sept - Dublin, The Spiegeltent, George's Dock, IFSC
I'd also like to take this opportunity to point out a great new unofficial Jah Wobble fan site JahWobble.co.uk. The site features loads of Wob related information including CD & Gig Reviews, Interviews, Images, Gig Lists, and a Forum. It also includes other interesting features like Multi-Media, Competitions, Technical Info and even Wob Memorabilia! All put together with care, attention and a sense of humour! It looks like this really could be a contender…

---
17th August 2005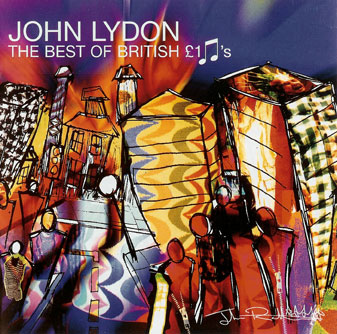 Virgin Records will be releasing a unique John Lydon compilation on October 3rd. 'The Best of British £1 Notes' will be available as a single CD, or a special edition 2 CD pack featuring additional mixes and bonus tracks selected by John. 'The Best of British £1 Notes' covers John's whole career from the Sex Pistols, through PiL, to his solo records and collaborations, then ends with a brand new track - more than proving John Lydon can still "have it".
There have been Sex Pistols compilations, and there have been PiL compilations – and very good they were too – but there's never been anything quite like this!
There will also be an additional DVD release, featuring promo videos, along with some great bonus material such as Sex Pistols live footage, and unreleased PiL studio mixes from 'Metal Box'!
The stunning artwork was created by John Lydon. Full track listings are below, further information and features will follow on JohnLydon.Com in the near future.
---
'The Best of British £1 Notes'
(Virgin/EMI Records, LYDON1)
1. Anarchy In The UK
2. Public Image
3. This Is Not A Love Song
4. Open Up
5. Rise
6. Don't Ask Me
7. Seattle
8. Holidays In The Sun
9. Death Disco
10. Flowers Of Romance
11. World Destruction
12. Warrior
13. Disappointed
14. Sun
15. Bad Life
16. Home
17. The Body
18. Cruel
19. God Save the Queen
20. The Rabbit Song

---
Special Edition Bonus Disc

(Virgin/EMI Records, LYDOND1)
1. Death Disco (12" Mix)
2. Poptones
3. Careering
4. Religion
5. Banging The Door
6. The Pardon
7. Rise (12" Mix)
8. Disappointed (12" Mix)
9. Warrior (12" Mix)
10. Acid Drops
11. Open Up (Full Vocal Mix)
12. God Save The Queen (Dance Mix)
---
'The Best of British £1 Notes'
DVD
(Virgin/EMI Records, LYDONDV1)
Videos:
Anarchy In The UK (original EMI version)
God Save The Queen
Public Image
Death Disco
This Is Not A Love Song
Bad Life
World Destruction
Rise
Home
Seattle
The Body (Uncensored Version)
Warrior
Disappointed
Don't Ask Me (Title Version)
Cruel
Covered
Open Up
Sun

Extras:
Sex Pistols live tracks
Pretty Vacant - Finsbury Park 1996
Bodies - Phoenix Festival 1996
Silver Machine - Crystal Palace 2002

Audio Extras
Unreleased PiL Monitor Mixes
Death Disco (Unedited Monitor Mix)
Albatross (Unedited Monitor Mix)
Albatross (Melodrama Mix)

Discography
---