15th August 2005
Apologies for the lack of updates lately, we've been largely off-line for a couple of months, but we're back now, and things will start to heat up very soon…
You'll probably notice there's NO mention of a bootleg 3 DVD PiL box set released via Atkins Underground Inc, funny that...
---

Jah Wobble is interviewed on Billboard on-line about his forthcoming 'Mu' album, the interview also has some interesting quotes about PiL…As previously mentioned 'Mu' is releasedSeptember 12th via Trojan Records.
Full recording info, plus tracklistings, as well as pix and quotes from Wobble can be found on the official 'Mu' web page by clicking the banner below…
---
1984 PiL guitarist Mark Schulz has a new band called Skin. Check out their official web site for news of live dates and full bio's etc. The band have a CD & DVD available to purchase, there are also plenty of free downloads, videos.
---
The recent re-issue of the Revolting Cocks - 'Live You Goddam Son of a Bitch!' includes the live version of 'Public Image' with Martin Atkins on drums, however, they haven't credited him. Oh the irony…
Thanks to Tim Bucknall
---
3rd July 2005

Pete Jones 'Neurotechnic' CD is now available to order via his own JABBERJAB web site, or on-line at CD Baby. The EP features 4 new tracks; 'Tiny Mind' / 'Liar' / 'Hard2breathe' & 'Neurotechnic'.
Displaying Jones' unique sensibilities throughout, 'Neurotechnic' is more than worth checking out, whether you were a fan of his previous 'Twisted' release or just plain curious. A full review will follow in the near future. Pete's version of 'Blue Water' from his 'Twisted' album also features on the recent Invisible "Tribute" album.
---

Jah Wobble has an extra special new album set for release on September 12th, entitled 'Mu'. The album was recorded with long time collaborator engineer Mark Lusardi and will be released on Trojan Records rather than his own 30 hertz. Wobble is genuinely excited by the record and believes it's one of the best things he's done in years, which really says something. He describes it as "heavy, heavy bass" and reckons the it even borders on the commercial in places, which is part of the reason it's being released outside of 30 Hertz.
See Trojan Records / 30 Hertz for further release info and track listings etc nearer the time…
Trojan Press Release
Jah Wobble returns on 12th September with his brand new studio album 'Mu'. Following on from last year's critically acclaimed 3-disc anthology 'I Could Have Been A Contender'. Below, John talks about his new album:
"The original idea behind 'Mu' was to make a dub style 5.1 recording. The only engineer I knew capable of helping me in that task was my old side kick Mark Lusardi. We had just finished a soundtrack to a French movie called 'The Fury'. The film was not so hot, but working in 5.1 had been a blast (the sonic possibilities seemed mind blowing). However, I had underestimated how difficult it would be to get a release on a 5.1 music only release. So at a fairly early stage we aborted the 5.1 sessions and reverted to stereo. However, we retained a '5.1 sensibility' with most of the tracks, i.e. lots of frequencies moving around, stereo image as wide as can be, the sound layered in sonic tiers. One notable exception is the opening track, 'Viking Funeral' which is dubby but in an old school mono sort of way. I also wanted to avoid studio self indulgence, and make a tight, disciplined album that had a great deal of stylistic variation. To be honest it's my first attempt at a 'commercial album' since 'Take me to God' in 1994.
'Mu' also offered a wonderful opportunity to showcase the prodigious talents of sound engineer Mark Lusardi. I first worked with Mark in 1978, and we have worked together on many projects since. Back in the seventies Mark was house engineer at Gooseberry studios in Chinatown, which was his first job after completing his apprenticeship at the old Decca studios. Mark quickly built a mighty reputation around the London reggae scene for his expertise as a dub mixer. He was much in demand. He went on to engineer on many successful dance records through the eighties and nineties. He is the most under appreciated and unacknowledged 'back room boy' in the game that I know of. During the making of 'Mu' we had some fearsome rows, even more fierce than usual. However, I know that in his heart of hearts Mark knows that I am always right. Only his Italian pride will never allow him to admit that of course."
Prior to the release of the album, Jah Wobble will play the following live shows:
11 Aug Cropredy Festival, Banbury, Oxon
12 Aug Tartan Heart Festival, Belladrum, Inverness-Shire
3rd Sept St Barnabas Church fete E2
---

Phil Strongman's PiL biography, 'John Lydon's "Metal Box": The Story of "Public Image Ltd' has been delayed until at least next year due to several re-writes.
The book will still be published by Helter Skelter Publishing, but now looks like being a co-written with a second author.
---
11th June 2005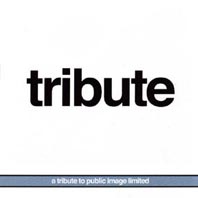 Martin Atkins Underground Inc have just released a PiL tribute CD, funnily enough entitled 'Tribute - A Tribute to PiL'. The 15 track CD features contributions from a whole host of Invisible related artists, as well as the likes of Pete Jones and Can's Irmin Schmidt. The album is available for $12 via Underground and all the usual outlets (Underground, 1112-UIN).
Check out http://www.myspace.com/undergroundinc to hear 4 tracks from the album, plus some other Underground goodies…
Track Listing:
1. Hanin Elias Public Image
2. The Winterbrief Bad Baby
3. The Damage Manual Memories
4. Jared Louche Poptones
5. Omegaman vs. Pigface Religion
6. October File Under The House
7. Irmin Schmidt & Kumo (of CAN) Banging the Door
8. Sheep On Drugs Four Enclosed Walls
9. The Countdown Annalisa
10. You Shriek Ease
11. Scars (feat. Greta Brinkman) Seattle
12. Pete Jones Blue Water
13. Vanishing Kids Death Disco
14. Twitch of the Death Nerve Order of Death
15. Chris Haskett Banging the Door
---
Pete Jones
new 4 track EP
'Neurotechnic'
is nearing release. The EP will be available soley through his
web site
, which will also be updated soon, so keep checking back for updates and info…
---

Not strictly PiL news but
Alan McGee
released a compilation of new bands signed to his
Poptones
label in May entitled '
The Cassette played Poptones
'. The CD is available via Mercury (9870791), and not his own Poptones label. Apparently the sleevenotes feature a personal thank you from McGee to John Lydon… The CD features tracks by the likes of The Others, The Boxer Rebellion, Special Needs and The Paddingtons.
---
Richard Dudanski's
Doghouse
now has its own web site
www.eldoghouse.com
. The band have just released a single and have been playing a few gigs. Richard was also heavily involved with the new
101'ers
compilation '
Elgin Avenue Breakdown (Revisited)
' which was recently released on EMI.
---
25th April 2005
Forthcoming Jah Wobble UK Live Dates
(see 30 Hertz for additions and updates)
11th May - London, Bloomsbury Theatre (cancelled)
20th May - Telerama Dub Festival, France
27 May - Bradford, The Mill
11th August - 'Fairport's Cropredy Convention' Festival, Cropredy, Oxfordshire
12th August - Tartan Heart Festival, Belladrum, Inverness-Shire, Scotland
---
Martin Atkins is interviewed at Rock Star Journalism, and Richmond Times Dispatch about the forthcoming Pigface tour.
We have been asked by Keith Levene to state that there is "NO WAY" he is touring with Martin Atkins, or will be involved with the Pigface tour in any shape…
---
'Rip It Up and Start Again' a new book on post-punk by Simon Reynolds has just been published in the UK. The extensive 576 page book takes in the post punk period 1978-84, covering everything from PiL to ABC to ZTT, from industrial and 2-Tone to synthpop and goth… Simon informs us that there are 2 chapters devoted to PiL.
The book was published in the UK by Faber & Faber on April 21, with a US edition to follow by Viking Penguin in February 2006. For more info see www.simonreynolds.net, and read a detailed review at Guardian Unlimited.
---
Ted Chau plays guitar on the new single by Hazel Kaneswaran entitled 'Crying Again'. The single was released on March 18th and entered the Irish top 10. Ted will also play on Hazel's next single 'Radio', which he has co-written along with her.
Thanks to Karsten
---
27th March 2005
Jah Wobble will be giving a "talk" at the Chelsea College of Art & Design, April 8th.
Full info from 30 Hertz:

Talk: Jah Wobble - 8 April 2005, 6.30pm
In response to the Turner Whistler Monet exhibition at Tate Britain, Chelsea College of Art & Design have invited Jah Wobble to talk about material and spiritual London.
This is part one of a two part series, the second part being a talk by Alex Lifschutz of Lifschutz Davidson Architects, who designed the new twin footbridges between Charing Cross and the Southbank.
Venue: Lecture Theatre, Chelsea College of Art & Design, Millbank, London
SW1Y (entrance via Atterbury Street)
Tickets: £5 (£3.50 concessions). Please book tickets in advance by telephoning
020 7269 1606, lines are open from Mon – Fri 10am-6pm. Alternatively email
your request to info@cochranetheatre.co.uk
Or visit the their website: www.lecturelist.org
Forthcoming Jah Wobble UK Live Dates
(see 30 Hertz for additions and updates)
1st April - Stratford-upon-Avon, Cox's Yard
11th May - London, Bloomsbury Theatre
11th August Cropredy (Oxfordshire) 'Fairport's Cropredy Convention' Festival
12th August - Belladrum (Scotland), Italian Gardens 'Tartan Heart 2005 Belladrum Festival'

---
New Martin Atkins interview at 'Intellectos' online magazine. Martin talks about PiL, his forthcoming book, and reveals he hopes to include Keith Levene in the Pigface tour…
---
19th March 2005
Sorry, no real news. It's all went strangely quiet, maybe too quiet…
---
Jah Wobble is currently finishing off work on a couple of new projects, more info soon… Wobble is set to appear at Harold Budd's farewell live concert at the Brighton Festival in May. John Foxx (Ultravox), Robin Guthrie (Cocteau Twins), Bill Nelson (Be-Bop Deluxe), along with a selection of other special guests are also expected to perform. The gig will take place at the Brighton, Concert Hall, May 21st.
Thanks to Mileta Okiljevic
---
Martin Atkins Pigface / Damage Manual will be touring the States in April. See the special Underground Inc tour page for full info & dates. Pigface have also just released a retrospective 4 CD box set 'Pigface vs. the World' in Europe.
It would appear that Underground Inc are planning a PiL tribute album as Martin has been deejaying a new mix of 'Banging the Door' by Irmin Schmidt (Can) credited to a "unreleased PiL tribute". More info as we get it…
---
New Order's Peter Hook recently picked some of his favourite records for a Sunday newspaper. His Top 10 included both 'Never Mind the Bollocks' and 'Metal Box'. Hooky said of 'Metal Box'; "As a musician, this has inspired me sonically. Jah Wobble's bass playing is awesome"
1. Nico - Chelsea Girl
2. Iggy & the Stooges - Metallic KO
3. PiL - Metal Box ("As a musician, this has inspired me sonically. Jah Wobble's bass playing is awesome")
4. Ian Dury - New Boots & Panties
5. Bowie - Low ("This is one of the records that NO have actively tried to rip off... though we've been very unsuccessful")
6. Joy Division - Closer ("This is so gorgeous and also tempered with memories of Ian working really hard despite his illness. It's so sad to have created something so beautiful which didn't help him. But it didn't take me long to listen to it as if I wasn't part of it. It took only 3 wks to make. Our latest took 3 years!")
7. Roxy Music - Roxy Music
8. Cockney Rebel - Human Menagerie
9. Sex Pistols - Never Mind the Bollocks
10.Throbbing Gristle - 20 Jazz Funk Greats
From Wire (ideal-copy) mailing list
Thanks to Mileta Okiljevic
---
Seattle's A-Frames are the latest in a long line of new bands apparently tipping a hat to PiL. The band have a new album 'Black Forest' out now on Sub-Pop, read the review at Aversion.Com.
---

A new compilation from Oui 3 features a previously unreleased cover of PiL's 'Rise', with the late Matthew Ashman on guitar (Bow Wow Wow). The CD also features Jah Wobble on the track 'Oui Love You'. 'Break from the Old Routine - The Collection' is available now on Spectrum Records (9827878).
Thanks to Erik Stein
---
20th January 2005

The Damage Manual have a new studio album entitled 'Damage Manual - Limited Edition' released on February 22nd via Underground Inc. The ten track CD also includes a remix of 'Expand' from Irmin Schmidt of CAN. This pressing is limited to 4000 copies. Underground Inc are taking advance orders now.
The new line-up of this Damage Manual does NOT feature Jah Wobble, or Geordie (or Keith Levene). The full line-up is follows; Chris Connelly, Martin Atkins, and Steven Seibold. More info on the album soon…
Track Listing:
Revenge Fiction
No Act of Grace
I Am War Again
Mad Dialect
Laugh Track
South Pole Fighters
Quiet Life
Driven Menace
Limited Edition
Expand - Remix by Irmin Schmidt and Kumo of CAN
You can download a FREE track from the album at Underground Inc. The band are also set to support Pigface on their upcoming tour.
18th January 2005
Jah Wobble & the English Roots Band UK Live Dates

4th February - Swindon, Arts Centre
5th February - Exeter, Phoenix Arts Centre
6th February - Birmingham,The Glee Club
4th March - Carlisle, The Brickyard
5th March - Peebles, Eastgate Theatre and Arts Centre, Scotland
19th March - Brighton, Komedia
6th January 2005
A new book on PiL is to be published this year; 'John Lydon's Metal Box: The Story of Public Image Ltd' by Phil Strongman is set for a April/May release by Helter Skelter Publishing. More info soon…

We finally added a review of John Lydon: Sex Pistols, PiL & Anti-Celebrity' the unauthorised biography of John Lydon by Ben Myers, which was published last year.
---
Martin Atkins' Pigface will be touring the USA this April. Support will come from Sheep On Drugs and the Damage Manual. Apparently the Damage Manual also have a new studio album coming out in the spring. However, this Damage Manual will NOT feature Jah Wobble in any way shape or form. See Underground Inc for more Pigface/Damage Manual info…
---
There is a new cut-price DVD issue of Cop Killer (Order of Death etc) on release in Canada. However, it is to be completely avoided. Apparently the movie is taken from a poor quality video that has been recorded from TV! Complete with swearing bleeped and breaks where the commercials were! Oh dear… If EVER a movie needed repackaged, remastered and re-released properly it's Order of Death…
Thanks to Mark Myskiw
19th December 2004 (updated)
A new PiL audio bootleg from Manchester, Russell Club 18.6.79 (aka The Factory) has appeared on the internet for download. The interesting thing is that this show has never appeared on cassette or LP bootleg, so its a real find. Unfortunately the recording is incomplete as it misses 'Albatross', but runs to just under 45 mins and has excellent sound quality, taken from the desk.
This gig was Richard Dudanski's first live appearance with the band, and was arranged at the last minute while PiL were in Manchester to record two tracks for Granada TV. Effectively the show was a live rehearsal, but is a truly unique recording, that is an absolute must have for 'Metal Box' fans…
Setlist:
1. Chant
2. Swanlake
3. Memories
4. Public Image [false start 1]
5. Public Image [false start 2]
6. Public Image
7. Annalisa
8. No Birds Do Sing
Thanks to Glyn
---
On the subject of bootlegs… apparently a mispressed Velvet Underground bootleg LP entitled 'More Bermuda Than Pizza' features a live PiL recording from 1986. The source is unknown, but the set list is as follows. If anybody has any more info about both recordings please get in touch…
Further info added January 2005

Side A:
1 - kashmir
2 - fff
3 - low life
4 - fishing
Side B:
1 - poptones
2 - pretty vacant
3 - banging the door
4 - four enclosed walls
5 - flowers of romance

Thanks to Eduardo
---
Jim Walker news (sort of…) Captain Oi! Records are set to release an Anthology CD of The Straps early next year. The collection will include the two singles Jim released on his own Donut Records back in 1980 and 82. You can also order a live CD via The Straps web site 'Live at the Marquee 6.1.81' with Jim on drums.
Thanks to Karsten
4th December 2004
Jah Wobble plays the legendary London, 100 Club this Tuesday 7th December. BJ Cole, Neville Murray, & Clive Bell will be joining the English Roots Band. Doors open at 7.30pm, tickets are £15 and can be purchased on-line via Club Bang Bang.
PlayLouder.Com have just published a new interview with Mr Wobble. The link can be found here.
1st December 2004
Keith Levene is interviewed in the October issue of on-line Canadian Magazine The Nerve. The link can be found here.
24th November 2004
If you've found this page, then you already know, but…
PLEASE NOTE: The WHOLE of Fodderstompf has now moved away from F&F to it's own www.fodderstompf.com site.
Please update your bookmarks.
Hopefully you won't notice any difference and everything should work ok, but If you spot any broken links etc, give us a shout… I won't pretend it wasn't a pain in the arse, but it was long overdue…
---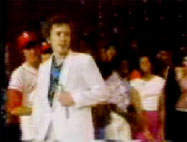 VillageVoice.Com recently featured the following snippet on PiL's infamous appearance on 'American Bandstand' back in 1980.
Dick Clark's asshole
March 5, 1980
"What can I expect from this asshole?" That is the question Dick Clark asks Larry White, then tour manager for PiL, before the band's scheduled appearance on American Bandstand. When they do go onstage, John Lydon refuses to mouth the pre-recorded vocals, ending the long standing Bandstand lip-synch tradition. He then invites audience members onstage, and infuriates Clark by charging the host's podium.
This link from VillageVoice takes you to a downloadable video clip of the appearance (be warned it's 20mb).
---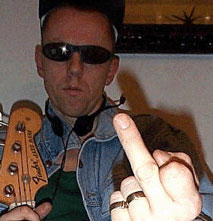 After being quiet for a couple of years, ex-PiL and Brian Brain bass player Pete Jones has some new projects on the go. He is currently working with Simon Scardanelli on an album set for release in Spring 2005, through Resonator. Some live dates are planned, although the line-up is uncertain. Ex-Big Bam Boo drummer Mikov Sparrow will also be involved with the project.
Jones is also planning a retrospective for 2005 which will feature Brian Brain, PiL and his own solo material. And still hopes to release his 'Neurotechnic' project later this year.
More info on all projects as we get it, but also see Pete's Jabberjab site, or www.scardanelli.com for further updates.
---

Martin Atkins Underground Inc are currently selling CD reissue's of Brian Brain's 'Time Flies When You're Having Toast' album. Undergound also have a limited amount of PiL's 'Metal Box' CD, signed by Atkins.
Atkins is continuing work on his autobiography. The still untitled book will cover all aspects of his musical career, from PiL through Brian Brain, Killing Joke, Ministry, Nine Inch Nails, Pigface, The Damage Manual, etc... Undergound have set up a special page on their site with preview images, where readers can also leave feedback or requests for more info…
---
A cover of 'This is Not a Love Song' was released by Crispin G. Glover back in May. The track was originally released as a 12" white label, but also features on album 'Which Way Is Up' (One Little Indian, TPLP346CD). See Cover Version Discography for more info.
Thanks to Chris Lynch
31st October 2004

Jah Wobble's 'Live At Leuven' is now available for purchase via 30 Hertz. The album was previously released as an exclusive Emusic download. The disc was recorded in Belgium on the Ode to Joy Tour along with Philip Jeck and Jaki Liebezeit.
Jah Wobble's 'Car Ad Music' will be available via 30 Hertz sometime early next year.
I'd also like to point out the sad death of Dianne Faber who ran the Jah Wobble fan site we mentioned a while back. The site is still available at the moment, and there is a guest book where anybody can leave their condolences.
John Lydon's Shark Attack
Channel 5, Wednesday, November 3rd, 20.00
John Lydon's Megabugs
Discovery, starts Sunday, November 7th, 17.00
John Lydon Goes Ape
Channel 5, Wednesday, November 10th, 20.00