News Archive:
March 2004 - April 2004
We're a communications company not a web site
Fodderstompf Mailing List
21st April 2004
The May issue of Mojo features a John McGeoch obituary written by Siouxsie and the Banshees biographer Mark Paytress, apparently, the last person to interview McGeoch...
---
The MurderGlobal 'Killer In The Crowd' EP will be released June 1st, via Underground Inc / Invisible. The CD will be a limited edition of 1500, and feature new mixes not available on the original EP which was released through the MurderGlobal web site.
---
The Damage Manual will be touring the USA starting May 28th. See Underground Inc / Invisible for full dates.
The Damage Manual live will be:
Chris Connelly - vocals
Martin Atkins - drums
Krztoff (Bile) - guitar
Charles Levi (Thrill Kill Kult) - bass
Seibold (Hate Dept) - keyboards & guitar

A Damage Manual remix album is also currently in production. The CD will include remixes by members of Can, The Smashing Pumpkins, The Orb, Pigface. More info soon... You can currently download a free Martin Atkins remix of 'Damage Addict' entitled 'Damage Dub' at the Underground Inc / Invisible site.
---
A Dub remix of the Pigface 'Easy Listening... ' album entitled 'Dubhead' (UIN1086) will be released May 11th.
Pigface are also part of the new documentary 'She Said', which features 'You Know / You Know / You Know' from 'A New High In
Low' prominently throughout.
"She Said is a hard-hitting, raw documentary about young women in their twenties. They are shown in frank and shocking interviews as well as dazzling photographs and digital art pieces. Their honesty and willingness to "tell all" makes "She Said" not only a powerful social commentary, but a poignant and moving statement about the challenges women face in the modern world."
www.shesaidmovie.com
---
Jah Wobble was interviewed by the Times Higher Educational Supplement (the weekly newspaper for Higher Education workers), 19th March. Regarding his return to education in 1996 to study for a Degree in Humanities at Birkbeck College, London. You can read a transcript here.
Thanks to Stephen Orr
Wobble also had an essay on the music business published in the German 'Sueddeutsche Zeitung' newspaper, January 31st. Unfortunately it's in German...
Thanks to Karsten Roekens
---
Since the Candyheads split last year Ted Chau has been working with producer George DeAngelis and a singer called Malone. He also just played guitars on a new single for Hazel Kaneswaran from Ireland. He says he may get involved with a another band project soon, but only when he finds the right people to work with...
---
A new untitled white label 12" features a speeded up vocal sample of Time Zone - 'World Destruction'. The label simply states "RAW 21", and features two different mixes of the track. More info if/when we get it...
Thanks to Acid Drops
---
18th April 2004
You can read John's Sunday Times Magazine interview, via the Sunday Times web site. In a very frank and open interview John talks about his personal life and family, and also reveals some of his future plans, including swimming with Sharks!
---
15th April 2004
John Lydon will be interviewed in this weeks 'Sunday Times Magazine'. This is the previously mentioned interview that was postponed after the journalist was refused entry into the USA!
---
8th April 2004
David Humphrey interview
As mentioned 'News 27th March' David appears on parts of 'Metal Box' including 'Death Disco', plus some other PiL tracks that were never released! Read the interview for full info, plus exclusive pix taken at the Manor...
---
2nd April 2004
Keith Levene appears in the March issue of 'Guitar Player' magazine as part of a feature on punk guitarists. The magazine is published in the USA, but is available elsewhere.
Thanks to Teresa O'Hara
---
27th March 2004
'Mystery' PiL drummer David Humphrey alive and well!
After Jim Walker left (but before Dudanski joined etc etc) David Humphrey was brought into play drums for the 'Metal Box' sessions at the Manor in Oxfordshire, and the Townhouse in London. With virtually no information about him existing, David's short time with PiL was always a bit of a mystery until he recently got in touch with us to clear things up... We'd always been led to believe David joined to play at the Manchester, King's Hall gig on February 23rd 1979, however, this is NOT the case (one PiL mystery solved, another opens up... !). However, David definitely plays on the 'Death Disco' single, and probably also appears on other parts of 'Metal Box'... (more info soon).
Check out his updated bio for further info, we'll also soon be posting an exclusive interview with David, featuring unpublished pictures of the band, together with some interesting revelations about the recording of 'Metal Box'...
David is now a professional drum tutor and runs his own classes in East London, maybe this is your chance to try and learn the PiL way! Check out his web site at www.bluedrums.co.uk
---
In more PiL drummer news!, Bruce Smith plays drums and percussion on the new album by Sweetback entitled 'Stage 2'. The album is already out in Japan (with one bonus track) and will be released elsewhere April 6th. Sweetback are Sade's backing band, who Bruce has previously worked with...
Thanks to Karsten Roekens
---
16th March 2004
Keith Levene has collaborated with DJ Carpetface on several tracks (incl. one called 'Realeyesation'), who in return also appears on MurderGlobal's forthcoming 'Perfect Crime' album. Carpetface is a hotly tipped London based DJ / Rapper, who earns his name due to having a beard!
Thanks to Karsten Roekens
---
Rumours are circulating of a forthcoming Damage Manual US tour. Some dates appear to have been announced already, however we are still waiting official confirmation and line up. (Though, one thing is for sure, if the tour goes ahead it will definitely NOT feature Jah Wobble!) Watch Underground Inc / Invisible for more info...
Thanks to Tim Bucknall
As well as Keith Levene's forthcoming 'Murder Global' EP re-release, Invisible Records are set to release a Damage Manual Remix Disc, along with a new Pigface CD entitled 'Dubhead'... Invisible are currently giving away FREE CD's!! Buy any disc from them and receive a rebate voucher to get your money back... Again, see Underground Inc / Invisible for full info...
---
13th March 2004
On Thursday evening, March 11th, as part of the Royal Festival Hall Ether Fest 2004 concert series, at London's Queen Elizabeth Hall, Keith Levene joined members of Asian Dub Foundation and Techno Animal (aka The Bug) plus Adrian Sherwood in a Sound System soundclash... Keith, of course, has worked with Adrian Sherwood and ON-U in the past, he was also asked to produce Techno Animal by Alan McGee a few years back, an offer which he decided to turn down... Unfortunately the Ether Fest appearance all came together virtually at the last minute so we were unable to announce it beforehand. Apparently things went, but if anyone was there, a little review would be nice...
Tinkering with packaging has caused the slight delay, but Keith's MurderGlobal 'Killer in the Crowd' EP will be released soon via Underground Inc.. The EP includes five, newly-mixed tunes, along with the 'Killer In The Crowd video produced by Levene.
Thanks to Teresa O'Hara
---
As previously mentioned John Lydon will appear on Johnny Vaughan's 'Live at Johnny's' TV Show on BBC3, Monday 15th March at 8pm.
---
Another John McGeoch obituary appeared in Friday's, 12th March, edition of The Guardian. Click Click here for link.
Thanks to Rob Macgregor
---
Jah Wobble will be interviewed, tomorrow Sunday, 14th March, 9-10pm, on Radio Scorpio from Leuven, Belgium. Details at www.radioscorpio.com
Thanks to Karsten Roekens
---
11th March 2004
Today's copy of The Independent newspaper carries a well written John McGeoch Obituary. Click here for link.
---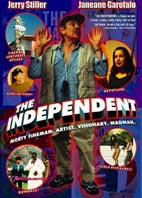 The Arpil issue of Total DVD Magazine includes a free copy of The Independent, the movie featuring a brief cameo appearance by John Lydon. The special 'free' disc also contains 'Air America' (oh, wow what a treat). Well, if you don't count the £4.99 for the magazine it's free...
Thanks to PR Paul / GSTSP

The "comedy", directed by Stephen Kessler, is loosely based on the life of independent/B-Movie producer Morty Fineman. John only appears in one scene, playing BaRuce Diamond (a 'camp' town official). Jerry Stiller, Janeane Garofalo & Ginger Lynn Allen also appear. See the official Fineman Films web site for more info, stills etc.
---
9th March 2004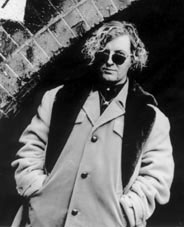 John McGeoch RIP (1955-2004)
John McGeoch sadly passed away in his sleep on Friday 5th March.

John joined PiL in 1986 helping to form the 'new' re-invented band with John Lydon. He would go on to become their longest serving member, bar Lydon, staying from 1986-1992, and playing on three studio albums ('Happy?', '9' & 'That What is Not') along with countless live gigs. McGeoch, together with Alan Dias, would form the backbone of the "new" PiL, contributing song-writing and acting as a full member.

Often touted as one of Lydon's most important collaborator's, McGeoch's arrival in PiL changed the whole sound and outlook of the band, with a more guitar friendly 'rockier' sound becoming the way forward.

Pre-PiL McGeoch had been guitarist for the seminal 'Magazine' and would later become a member of 'Siouxsie & the Banshees', contributing to some of their most interesting and exciting guitar work.
After PiL John returned to England from LA. 1995 saw him become a qualified Nurse. However, he chose not to pursue the career, and returned to making music...
RIP John, you'll be sadly missed...
Sincerest Sympathy to his daughter Emily, and all his loved ones...
---
6th March 2004
John Lydon was set to appear in tomorrow's 'Sunday Times Magazine', however, (get this!) the journalist was refused entry into the USA, and was even held in a holding cell overnight! And that's the establishment... The interview will now be held at a later date...
While John is over in the UK for the 'Jonathan Ross TV Show' (BBC1, 12th March) he should be doing some follow up press including an appearance on Johnny Vaughan's 'Live at Johnny's' TV Show on BBC3, more info soon...
---
2nd March 2004

Jah Wobble's 'Elevator Music Volume 1A' is now available. The album was previously available as an Emusic.Com exclusive download. Three new tracks have now been added, with one removed. Check out 30 Hertz for full info.
Thanks to 30 Hertz
Tour Update
Jah Wobble & The Invaders Of The Heart ÷English Roots Music
26 March - Whitby, The Compass Club
8 May - Carlisle, The Brickyard
26 May - Norwich, Waterfront
27 May - Sheffield, Boardwalk
28 May - Kendal, Brewery Arts Centre
June 11 - Hebden Bridge Trades Club

Jah Wobble Bass & Drum Show
5th May - Bradford, The Love Apple
6th May - Liverpool, The Masque
7th May - Manchester, Academy 3
More dates still to be announced, check 30 Hertz for updates