Metal Box review and additional info
This special 'Metal Box' pages features an extensive review of the 2006 vinyl re-issue, plus additional information on the original release. Including links to archive press reviews and interviews, recording info etc, plus a guide to other non-album 'Metal Box' era recordings.
Further 'Metal Box' Reading
Additional non-album 'Metal Box' era recordings
Other Fodderstompf 'Metal Box' links
Public Image Limited
Metal Box LP Review (2006 re-issue)
4 Men With Beards (USA)
4MBLP500
Tracks:
Disc 1: Albatross / Memories / Swan Lake (Death Disco)
Disc 2: Poptones / Careering / No Birds [Do Sing] / Graveyard
Disc 3: The Suit / Bad Baby / Socialist / Chant / Radio 4
Running Time: 60:37 mins (approx)
review by Scott M, August 2006
© 2006 Fodderstompf.com / F&F Publishing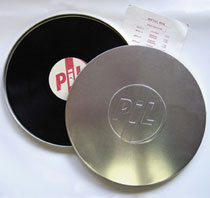 Nearly 27 years after it was first released you can finally get 'Metal Box' in the USA. As it was meant to be. Released via RUNT Distribution, and their 4 Men With Beards label, this limited edition vinyl re-issue is a replica of the original 3 x 45rpm set; complete with its legendary metal canister.

Originally, I only planned to review the packaging, and not the music, but this is 'Metal Box' how can I NOT mention the music? As I've said many times before, it's quite simply one of the finest records ever made.

Recorded by founder members – John Lydon, Keith Levene & Jah Wobble – along with an ever changing set of drummers – 'Metal Box' was PiL's second album released in November 1979. Often overlooked, less than a year after their debut 'Public Image: First Issue'. The booming sound remained, but 'Metal Box' was nothing like its predecessor. Things had changed, and so had PiL.

While outside pressures mounted PiL channeled their energies (negative and positive) into a record that would set them apart back in 1979, and indeed today in 2006. Recorded in night-time studio downtime, or locked away at the Manor in Oxfordshire, 'Metal Box' was largely conceived in the studio. However, it was far from over-produced and cold. What you are hearing is a live, fully functioning band, enhanced by studio techniques, not engulfed in them.

The majority of tracks are improvised takes. From which PiL would make different mixes. Often layering or splicing them together; building the sound and adding to its power. 'Metal Box' has so many strong elements – whether it be Keith's wailing guitar or melodic synths; Wobble's sub-disco reggae basslines; John's powerful and passionate vocals; or the crashing rhythm that holds it all together – that on each listen you can focus on a different aspect. This is perhaps what gives 'Metal Box' its space. Despite its layers and depth, nothing is buried. The sounds compete, and in turn, compliment each other.

Another of the record's great strengths is that although each track has a similar overall 'sound', they have almost completely separate musical styles. Everything was looked upon as an individual piece of work. An approach which suits this 3 x 12" single format perfectly. Even then, you couldn't really get much further apart than 'Chant' & 'Radio 4'. And they sit next to each other! Maybe that's something for the 'Metal Box' imitators to note: opposites attract and diversity works.

'Metal Box' is often compared to a mixture of Krautrock and Dub Reggae, and while it's true PiL were fans of these genres, it's a VERY LAZY comparison. I can't think of a single record from those genres that sounded like 'Metal Box', can you? Or have you just been led to believe that? There may have been elements of that sound in the mix, but 'Metal Box' covered much more...

Take a track like 'Death Disco' (aka 'Swan Lake') – John pouring his heart out on top of disco rhythm and inside-out Tchaikovsky – it's hardly "Can meets King Tubby" is it Mr Music Journalist…? In fact, if PiL hadn't mentioned those genres or band's, the press probably wouldn't have had the references in the first place! Public Image had far too much respect for their influences than to steal from them. And quite frankly, they didn't need to.

It wasn't only the music that was groundbreaking, 'Metal Box' was 3 x 45rpm 12" singles, housed in a metal 'film' canister. As made by 'The Metal Box Company' in London's East End; hence the name. Today CD's (and even the occasional LP) released in metal tin's are common place, but this was an age long before record companies played the format game. And it was far from a novelty. PiL knew exactly what they were doing. They were all huge record fans, and they understood packaging, image, and high sound quality were a vital ingredient to what they wanted achieve. And lets be honest about it, it was a great piece of mischief.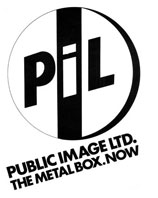 At the time PiL had to fight Virgin Records all the way to ensure the record was released in the metal box; and eventually had to put £35,000 of their advance back into the album. 'Metal Box' was never intended to be limited edition, PiL wanted a full run, but Virgin would only press 50,000 (plus an extra 10,000 for export). Some of these 10,000 found their way over the Atlantic, however, prices were always greatly inflated.

A full six months after the release of 'Metal Box' Island Records in the USA (licensed from PiL's then American label Warners Bros) released a standard double LP edition of the album in a cardboard sleeve as 'Second Edition', but it is only now in 2006 that the 'Metal Box' is officially available in the USA. And only because RUNT licensed it from Warners/Rhino; and got John Lydon involved in the project.

This new re-issue is a replica, not an exact reproduction, but it would take the most hardened of trainspotter's to pick fault with it. Mr Lydon has been overseeing the release and keeping a firm eye on the packaging and sound. In fact, it wouldn't have got released in a metal canister if it wasn't for him.

The only real difference between this and the original is that they couldn't get the metal canister in a matt finish. Like virtually everyone else, my original 'Metal Box' rusted up years ago, so it's strange to see it in such a shiny metallic finish! Though it has to be said, it does look good.

You'll be pleased to hear it's still a pain in the arse to get the records out, maybe slightly easier, but still a pain in the arse! The running order – not that it's meant to have one – is exactly the same, and still as confusing as ever. The red one side / black the other PiL record labels are kept. Even the notoriously scrappy track listing insert is still the same! So nothing has really changed except for the record company info; plus a new barcode/licensing sticker on the rear, and a small PiL logo sticker sealing the can.

More importantly it sounds great. I'll admit it, I'm lazy, I haven't listened to 'Metal Box' on record for years. It was great to give the vinyl a blast. I don't know all the technical ins and outs, and I'm certainly not going to sit down and compare it note for note with the original, but it sounds good to me. So that will do for me! It's also been pressed on high quality 180gram vinyl, so there's not a click or pop to be heard. Of course, it is all subjective to ears, hi-fi equipment and what edition you are used to, but I'm certain I noticed little things that were lost on compact disc. Also, the bass has a real warm glow; while the vocals and guitar have an extra sheen and crunch that's just not there on CD.

Times have changed. Vinyl releases, let alone ones in a metal film canister, ARE a novelty these days, and labels like 4 Men With Beards are clearly taping into the collectors market with their series' of vinyl re-issues. But do yourself a favour, if you haven't heard 'Metal Box' on vinyl, make a point of checking it out (old or new). Of course, if you already own the original version there is little point buying this, but 'Metal Box' was made to be listened to on 12" vinyl, and there's a whole generation out there that hasn't heard it.

Although the re-issue is only available in the USA, in a piece of ironic role reversal, import copies have already appeared in the UK and Europe at inflated prices! RUNT have only pressed 5,000 copies, but they seem to be easy to locate at reasonable prices via US websites. So shop around.

Oh, and remember, despite what you read in the music press: There is far more to Public Image Ltd than just 'Metal Box'…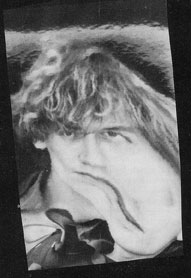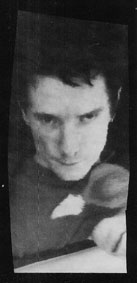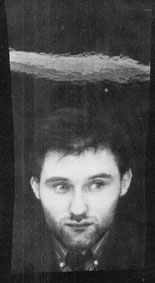 Further 'Metal Box' Reading:
"I was very shocked by the reviews of the last album. I believe none of them. They liked us for all the wrong reasons..."
John Lydon: Tomorrow Show, June 27th, 1980
NME, 'Metal Box review' - November 24th, 1979
This enthusiastic review by Angus MacKinnon contains some interesting points, but is probably the source of all Can references ever since!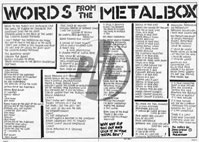 ZigZag, 'The Metal Box' - December 1979
John Lydon & Keith Levene interview, plus 'Metal Box' review. This is the infamous 18 hour session with Kris Needs… And probably one of the best 'Metal Box' era interviews.
Virgin Records wouldn't stretch to a lyric sheet back in 1979, so John wrote the lyrics out and asked Kris Needs to print them along with the interview. Click the thumbnail for full version. "Why not print it out and stick it in your Metal Box!"
'Notes on Metal Box' - by Lester Bangs
Excerpts from a review of 'Metal Box' by the notorious (drop-in-the-ocean) Lester Bangs. Later re-published in the 'Psychotic Reactions and Carburetor Dung' book (Anchor Press, 1988)
Rolling Stone, '100 Greatest Album Covers' - November 1991
Feature on the packaging of 'Metal Box'.
FACT Magazine, 'Full Metal Jacket' - January 2004
2004 'Metal Box' retrospective by Kris Needs. As well as information from his 1979 ZigZag interview (see above) the article also includes some good quotes from Bobby Gillespie.
Rolling Stone, November 15th 2006
2006 re-issue review. Four and a half stars out of five…

Additional non-album 'Metal Box' era recordings:
Death Disco
(Titled as 'Swan Lake' on 'Metal Box'): A completely different, extended 'Death Disco' mix is featured on the 12" single (titled as 'Half Mix'). The 12" B-side also features a re-recorded instrumental of 'Fodderstompf (titled as 'Megga Mix'). Both tracks are available on the 'Plastic Box' compilation.
The 7" version of 'Death Disco' is almost identical to the 'Metal Box' version, but minus a little synth at the very end; with the line "words are useless" added in its place.
The FULL unedited 'Monitor Mix' of 'Death Disco' (reaching near 10 minutes) is featured as an audio extra on the John Lydon 'Best of British £1 Notes' DVD compilation. Absolutely stunning… The mix also later turned up as a bootleg 12" single along with the 'Melodrama Mix' of 'Albatross'.
Albatross:
Again, the full unedited 'Monitor Mix' is featured as an audio extra on the John Lydon 'Best of British £1 Notes' DVD compilation. The compilation also features the 'Melodrama Mix' of 'Albatross' with vocals from Lydon & Wobble, plus additional Melodica from Wobble. The 'Melodrama Mix' also later turned up as a bootleg 12" single along with the monitor mix of 'Death Disco'.
Memories:
A different (non-spliced) mix of 'Memories' is featured on the 7" & 12" versions, but unfortunately is currently unavailable on CD.
Another:
'Graveyard' from 'Metal Box' with John Lydon vocals. An often ignored classic. The track was originally featured on the B-side of the 'Memories' 7" & 12". And is available on the CD version of the 'Flowers of Romance' album, and the 'Plastic Box' compilation.
BBC, Radio 1, Peel Session, December 17th 1979:
PiL recorded 3 session tracks especially for the John Peel radio show: Chant', 'Poptones', and 'Careering'. The tracks are included on the 'Plastic Box' compilation.
Paris Au Printemps:
AKA Paris in the Spring. Official 'Metal Box' era live album recorded with Lydon, Levene, Wobble & Atkins at Paris, The Palace, France on 17th & 18th of January 1980. "I'll walk off this stage if you don't stop spitting. Dog!" Currently available on CD.
Bootleg Recordings / Outtakes:
Live Recordings:
There are numerous live recordings of the 'Metal Box' era PiL – none which surpass 'Paris Au Printemps' in sound quality – but see the Audio Bootleg Guide for more info.
Studio Outtakes:
There are a handful of 'Metal Box' studio outtakes in bootleg circulation. HOWEVER be warned they are poor quality and do NOT feature any completely unreleased tracks; only alternative takes or mixes. See this Fodderstompf review for more info. It's also worth noting the so-called 'Metal Box Demos' bootleg LP actually features 1982 live tracks together with the John Peel Session and the 'Old Grey Whistle' TV appearance.

Other Fodderstompf 'Metal Box' links:

Metal Box: LP Discography entry (original)
Metal Box: LP Discography entry (2006 re-issue)
Metal Box: CD Discography entry
Metal Box: Personnel and studio info etc
1979 Chronology: Includes various information about the recording and release etc.

Picture Credits: (Top to Bottom)

Metal Box 2006 re-issue © RUNT Distribution / 4 Men With Beards
Metal Box 1979 press advert © unknown
Keith Levene, John Lydon, Jah Wobble: ZigZag Magazine, December 1979 © unknown
John Lydon hand-written lyric sheet: ZigZag Magazine, December 1979 © John Lydon / ZigZag
Metal Box 2006 re-issue © RUNT Distribution / 4 Men With Beards
© Sleeves/labels etc are copyrighted by their respective copyright owners